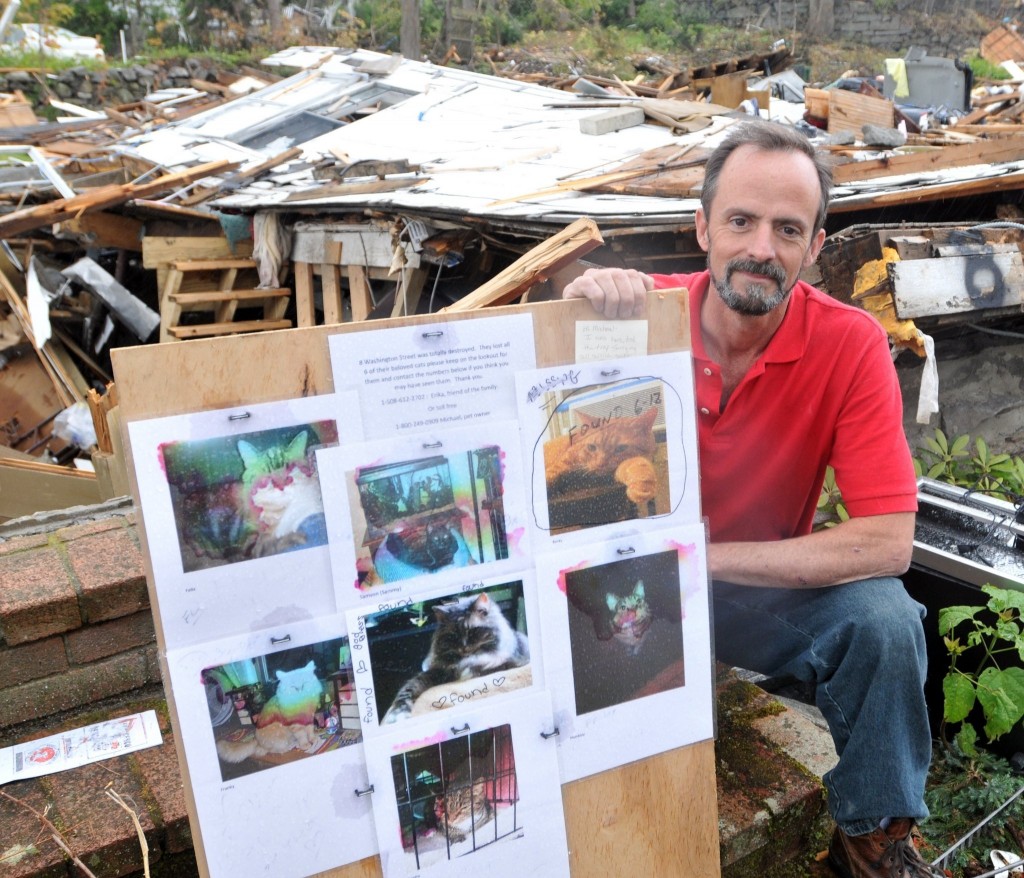 Michael Roescher of Monson MA camped out in the rubble of his tornado destroyed home for days in order to recover all 7 of his missing cats. Finally, by last Sunday he had them all back.
The home Mr. Roescher rented in Monson MA was completely destroyed by a tornado that ripped through Massachusetts on Wednesday, June 1,with his goldfish and 7 cats all inside.
According to a local report: On June 1, Mr. Roescher was working when his daughter Kelly McClure told him, "'There's a tornado in the backyard.'"
He looked out and saw "3-D IMax destruction of the town happening in my backyard. The wind was moving left to right as fast as it could go. I saw 60 foot trees being ripped out of the ground. It was 15 feet behind us when we turned to head for the basement."
"The most horrific part, was I was blinded by the dirt, then I saw the physical house move up and go 8 feet east. The whole time it was trying to suck me out and all the garbage from the basement was going up in the air," he added. "Something hit me in the head. It was like being in a blender."
When it was over, he thought he was dead. His daughter pulled him out of the rubble, and the two discovered that everything had been destroyed.
Mr. Roescher feared all of the pets were lost until the goldfish was found the day after the tornado, still alive in 2 inches of water, prompting him to gain hope for the cats' survival.
He placed a large sign in front of the rubble, with pictures and names for all the cats and, as they were found, noted the happy occasion on the sign.
Mr. Roescher camped outside amid the rubble so he could search for his traumatized pets at night, setting traps with tuna fish to lure them out. A group of volunteers assisted in the searches, including Fire Chief George Robichaud, who freed one only to have it run off.
Some were dug out of the rubble, some had to be lured with food, and on Sunday, the last cat, Rocky, was finally recovered at 4:30 a.m. When Rocky saw Roescher, he rolled over on his belly to greet his owner, who says "I'm thrilled to death. Beyond belief, I am shocked . . . How did they survive?" The cats are fine, other than having some bruised paws from trying to dig themselves out from the rubble.
They cats came back like this:
First ,Felix and then Plumley  were dug out of the rubble on June 3, two days after the tornado.
Next, Samson and Franky,Kelly's cats, turned up on June  4 and 5. Samson was pried from the rubble, and crawled into McClure's arms. Franky ran over to Mr. Roescher and got into his arms.
Cujetta, a stray recently picked up in Worcester, was found stuck in a wall on June 5.
Cosette was found a few days later, with help from some young women from Springfield who came out to help, again in the rubble.
Rocky, an 18-pound orange cat, proved to be the most elusive. "He was fast, like a panther on the roll."
Franky and Cujetta, are staying temporarily at Second Chance Animal Shelter in East Brookfield. Samson is staying with Ms. McClure in Brimfield, and Felix, Plumley, Cosette and Rocky, and Silver the fish, are staying with Mr. Roescher in Worcester.
Congratulations and kudos to Mr. Roescher, who lost everything but his pets as a result of the tornado, yet says he has what's important to him.
.
Source, MASS live.com. Potions of this story taken directly from there.
About Author