Just days after a remarkable surgery to realign his backwards facing, twisted legs, little Corky stood on all fours for the first time in his life this week. Corky's recovery has had some complications, but he is coming along well.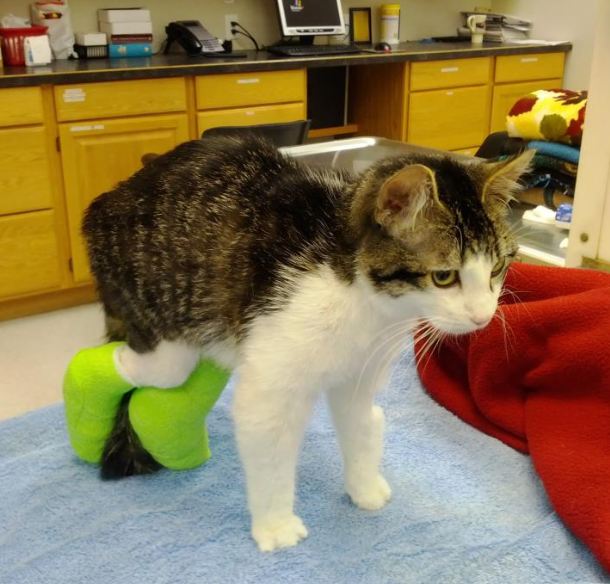 Corky, the kitten from Cats Cradle Shelter born with backwards, crisscrossed hind legs, had orthopedic surgery on April 5, with amazing results. Our story from April 6,  Corky Special Needs Kitty: Recovering From Remarkable Leg Surgery, gives details and shows the remarkable before and after comparison xrays of Corky's hind legs.
Corky has been receiving physical therapy as he adjusts to the difference in his legs, builds strength, and relearns how to get around. The triumphantly heartwarming photo above shows the little fellow standing on his own, which he did last week for the first time ever.
His recovery has not been completely smooth. There was a problem with circulation in Corky's right paw, and concern that he might lose a leg after all.  His hospital stay, which was supposed to be a couple of days after surgery was extended and then extended again. A second surgery may have resolved the concerns, and Corky seems to be doing well. An update from Cats Cradle on April 10 said this: "He had to go back in for more surgery this morning to make incisions between all of his toes on both feet to relieve the swelling, there was also an incision made on the side of his leg to release the skin that was causing lack of circulation (also due to the swelling). He seemed much better this afternoon, however, the doctor said he would most likely not be released anytime this week, maybe next week, we have to go one day at a time. He is getting physical therapy several times a day, every day." A further update from Thursday indicates that hospital staff think the circulation may be returning to Corky's right paw.
Because of the extended hospital stay and the additional surgery, the costs have mounted above the amount raised in donations, so the ChipIn widget at the Cats Cradle website will remain open and active through the month of April.
Casselton Veterinary Service staff say that Corky looks forward to his daily visits with Gail, Carol, Amber from Cats Cradle, and the women sense that is the case by the way he lovingly snuggles with them when they come to see him.
Due to the many requests for it, the sweet little cat now has his own Corky Facebook page. The page has been up for the past week and includes photos and updates and a place for Corky's friends and supporters to check in and to gather. They'd love some more "likes" and would like to see 1,000 fans by the time Corky is ready to leave the hospital.
__
For those unfamiliar with Corky's story, see Special Needs Kitty Corky Finds Caring Friends at CATS Cradle and Corky Update:Special Needs Kitten With Twisted Legs Will Have Surgery, along with the link at the top of the page that reports on the surgery.