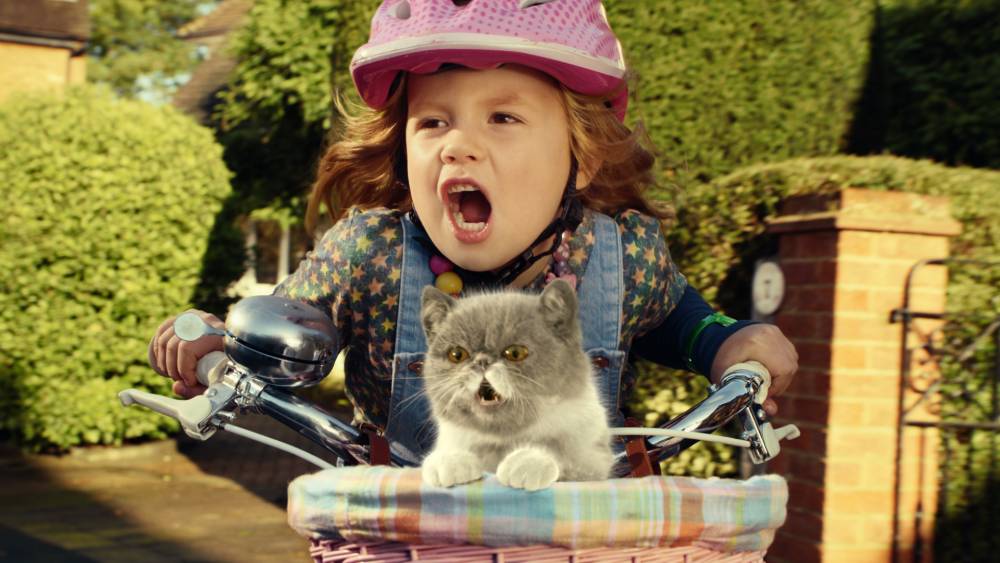 Three – #SingItKitty – cat advert
3 (Three.co.uk) mobile phone service company unveiled one of the cutest ads ever on Friday, and it features a singing cat sitting in the basket of a little girl riding a bike.
Child model Jolie Forrest of Manchester, UK rides with 7 month old kitty Simcris Bronte Bronjoy, from Rugby, Warwickshire in the new ad, as the pair rock out to the 80s hit 'We Built This City' by Starship.
3 says this about Simcris: "As for our feline star of the show, Bronte, she's been a hit all round and was an amazingly patient and happy star. She is lovingly owned by a well-known breeder of exotics and Persians, Caroline Bailey-Read based in Warwickshire."
The commercial was created by Wieden and Kennedy, London, and was first seen on ITV's This Morning on Friday.
A Sing it Kitty app found at www.SingItKitty.co.uk  is available to those in the UK. The app allows users to upload still pics of themselves and two friends and have them turned into a music video. (You can only access the app from the UK.)
.
.
.
.
.
.
Photos via 3
.
.