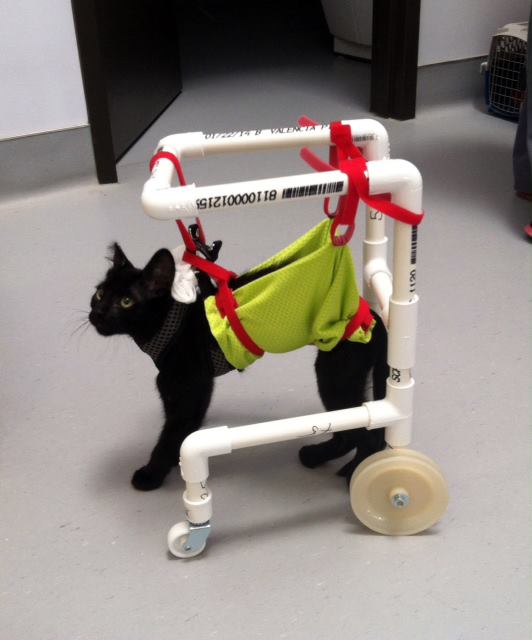 .
A sweet kitten named Bruce Lee was semi-paralyzed in his hind legs due to an accidental injury when he was rescued from a drain pipe by a Good Samaritan. Caring staff at the shelter are helping him to regain his mobility with a custom wheeled cart and physical therapy.
"She [Bruce Lee's rescuer] heard him crying," said the Santa Fe Animal Shelter's Ben Swan, who spoke with KOAT Channel 7 news. "She went to investigate, and that's when she found the little kitty in that pipe."
A Santa Fe Animal Shelter vet tech went online and got plans for a custom mobility cart for Bruce Lee to use and to help strengthen his legs. She built the cart sing PVC pipe and other materials all found at the local hardware store.
The cart is one part of Bruce's rehabilitation. He also walks on an underwater treadmill and goes through an agility course.
Bruce Lee has made a dramatic recovery in regaining the use of his hind legs, thanks to his caregivers' efforts. Shelter staff feel confident he will continue to improve and will soon be looking for his forever home.
The Santa Fe Animal Shelter wrote about Bruce Lee at Facebook on August 8, saying: "I don't think I've had a chance to tell you about Bruce Lee, a kitten who has been recovering in our clinic. We're not 100 percent sure of his story – we think he was caught in the engine of a vehicle where he injured his legs and ears – but we were concerned about the paralysis in his legs. The good news is that he is regaining strength in his back legs all the time – and he's spunky! Thanks to all in our clinic who have worked so hard to bring him back to health."
An update on Bruce Lee at Facebook on August 12 reads: "What we do for our injured kids is sometimes just amazing! We have been following Bruce Lee's story – the cat whose back legs are somewhat paralyzed because of an injury – stories vary, but we think he hitched a ride in an engine, jumped out at a gas station and got stuck in a drainpipe – at any rate, he has limited mobility with his back legs but has been improving. One of our veterinary technicians, Ashley, her husband, Josh, and her sister Savannah, who is our New Hope [Foster Program] coordinator, hit upon this contraction to help him exercise his back legs. They were inspired by drawings and instructions on the Internet. It's working! They will be sending us video soon. Rock on, Bruce Lee!"
.
Watch the KOAT report on Bruce Lee, where we see him scooting around in his little cart and going through his paces in physical therapy. When you see him kick his lttle legs you will know how he came to be called Bruce Lee.

.