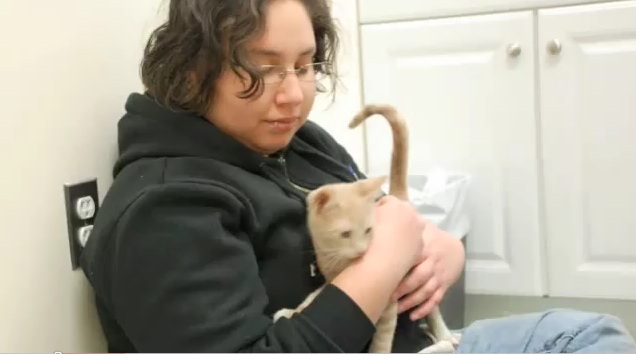 One young woman is making a difference in the lives of the Philadelphia-area animals and youth that need a second chance.
Twenty-year-old Rachel Cohen was always a problem solver with a loving heart and a passion for creating change. In 2009 she founded Hand2Paw, an organization that connects homeless teens and shelter animals in a mutually beneficial way. Up until then, she'd been volunteering at the Philadelphia Animal Welfare Society (PAWS). PAWS had planned to build a large spay/neuter clinic and new housing facility that would take care of over 100 animals. Rachel knew the shelter needed more volunteers and decided to try and find ways to double the number.
It was right around that time Rachel noticed a group of homeless kids with dogs living under a nearby bridge. She began talking with them about their animals. "I found out how much they loved their animals," she says, "I thought. 'Well, what if I could get these kids to volunteer at the animal shelter to help them care for the animals?' and in exchange they could learn professional skills." She began the work of developing a program that did just that. Thus, the non-profit organization Hand2Paw was born.
Through Covenant House and Project H.O.M.E., the organization recruits participants between the ages of 18 and 21 and have often been in the foster care system or have been a part of children and youth services at some point in their lives. "Some have aged out of the foster system, and approximately 50 percent either have experienced a background of physical abuse or of substance abuse," says Rachel. "They can use our support to gain [skills] and gain that support to get back on their feet."
Currently, Hand2Paw works with both PAWS and the Pennsylvania Society for the Prevention of Cruelty to Animals (PSPCA), and participants from the program attend classes at each of the shelters. At Hand2Paw, the types of group sessions in which volunteers participate include everything from clicker training for dogs to pet hygiene to socializing kittens to proper cage-cleaning. In addition to the care of pets, they assist with the janitorial duties at the shelter.
"We have professional dog trainers that lead the group sessions, so that there are structure and safety protocols in place," Rachel says. In conjunction with a local veterinary school, Hand2Paw has also developed a new mentor program, where students from the school come and assist participants with their activities, including teaching what to look for if their pet should ever become ill.
Additionally, the organization invited humane law enforcement officers also talk to participants in the group sessions about their experiences, which offers an education about the right way to treat animals: with kindness, respect and dignity. They also provide professional training opportunities and leadership modeling skills to many of the participants in the program. "So many of them are role models to the kids," says Rachel.
Hand2Paw has begun an internship program through the organization. Interns are placed into a six-week paid internship program at PAWS, with the end goal of placing them in a paid job. Hand2Paw has so far placed several interns.
The program has provided transformative results for many of the participants. Rachel remembers a young man who participated in the program for nearly a year, and after his experiences with the Hand2Paw program was able to utilize those skills and secure a paying job at a pet boutique and "stand on his own feet." Rachel continues, "This has the opportunity to really transform kids' lives and give them an opportunity they wouldn't otherwise have."
The animals receive endless benefits from interaction with the participants of the Hand2Paw program. The volunteers at Hand2Paw provide the much-needed extra love and attention to many of the cats and dogs that the shelter staff cannot always. "The work that these youth do with the dogs makes them calmer, make them present better at adoption events, and it definitely makes a tangible impact," says Rachel.
Hand2Paw just won first place in the national Students in Service award and grant and has also been the winner of a Do Something grant. In addition to being a full-time student at the University of Pennsylvania, Rachel is currently working on not only expanding the Philadelphia program, but bringing the success of Hand2Paw into nearby cities.
"Hand2Paw has taught me to never ever make assumptions about inner-city youth and that, I think, has been an extremely rewarding value to come away with, because it has taught me so much about where I belong in this world," Rachel says.
Here is the touching video Hand2Paw created during the voting period of the Students in Service Award (which they won).
About Author