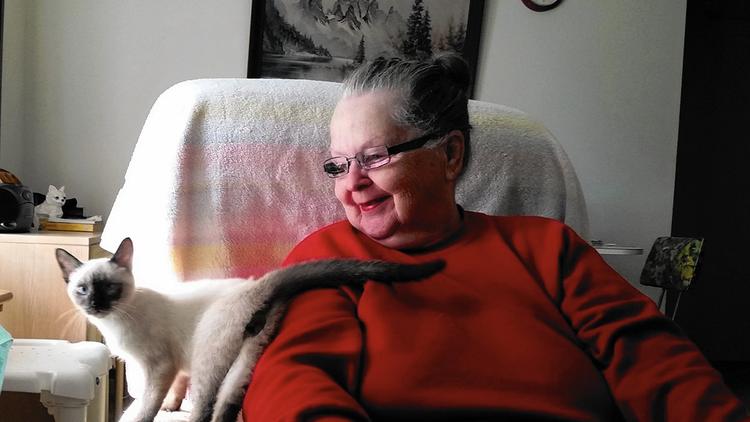 .
New Animeals Program Provides Clients Free Pet Food And Assistance with Veterinarian Bills
A Florida program helping local seniors has expanded to offer assistance with pet food and veterinary care.
Meals on Wheels of the Palm Beaches, headquartered in West Palm Beach, has been delivering nutritious meals to homebound seniors in the community for more than four years, and is now providing free pet food to its clients with dogs or cats.
"Many of our homebound senior clients who live alone depend on their pets for companionship but providing food and veterinary care while living on a limited income can be a challenge," said Charlie Ring, executive director of Meals on Wheels of the Palm Beaches. "Through our new Animeals program we're able to help relieve some of the burden on our clients who love and care about their cats and dogs so deeply."
The Animeals program has been funded initially through a $2,500 grant from the Banfield Charitable Trust – a non-profit arm of Banfield Pet Hospitals – which supports Meals on Wheels programs across the country.
The program is continuing to seek community support through financial contributions and pet food donations to keep it going strong after initial funding is used. Already Lisa Gallea, owner of the West Palm Beach pet-supply store Furry Paws, has agreed to contribute to the Animeals program.
"Meals on Wheels is about helping seniors stay in their home and live a high quality of life," said Debbie Emerick, director of volunteer services for Meals on Wheels of the Palm Beaches, who learned about the Banfield grant while at a national Meals on Wheels conference. "Being able to keep their beloved pets at home with them is an important part of that quality of life."
For Meals on Wheels clients like Darlene Conrad of Lake Worth, receiving free cat food and help with vet bills will make it easier for her to take care of Tiger, her eight-year-old Siamese.
Suffering from injuries she received in a car accident involving a drunk driver, Conrad struggled with Tiger's food bills and tried to save money by feeding him dry food rather than canned cat food. She also couldn't take him to the vet as often as she hoped.
"Tiger hasn't been to the vet in a while," she said.
Now, with the help of Meals on Wheels, Tiger is getting canned food and will be going to the vet to check his teeth after Conrad discovered he had trouble chewing.
"Meals on Wheels helping me take care of Tiger is a big thing," she said.
Meals on Wheels is also helping another client, Mary St. Clair, take care of Thai, a kitten she found outside her Lake Worth home.
"He was living outside under a car," St. Clair says. "We kept watching to see if he might belong to someone."
Like Conrad, St. Clair says she would struggle to pay for Thai's food were it not for Meals on Wheels.
"He's great company," she said. "I haven't had an inside cat for a long time."
.
<via>