A stray cat found a home, and  gave a vision impaired dog a new lease on life when she became his companion and guide.
Holyhead, North Wales resident Judy Godfrey-Brown's dog  Terfel ended up spending most of his time in his basket after cataracts deprived the eight year old pup of his vision. When he did get up for a walk, he'd bump into things.
Terfel's life changed for the better, though, when Judy adopted a stray cat named Pwditat, who appointed herself as the dog's service animal and pal. Pwditat walked up to Terfel, led him from his basket, and brought him out into the garden. She has continued to help the dog get around and enjoy life since moving in.
Judy said,  "I've never seen anything like it … Pwditat immediately seemed to know that Terfel is blind."
"She uses her paws to help guide him. They are glued to each other and even sleep together now."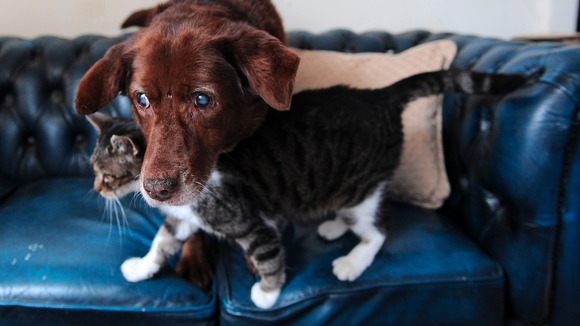 <via>
.