Maryland native and cat lover Justin Ian Daniels posed with a group of adorable shelter kittens for Show Your Soft Side photographer Leo Howard Lubow.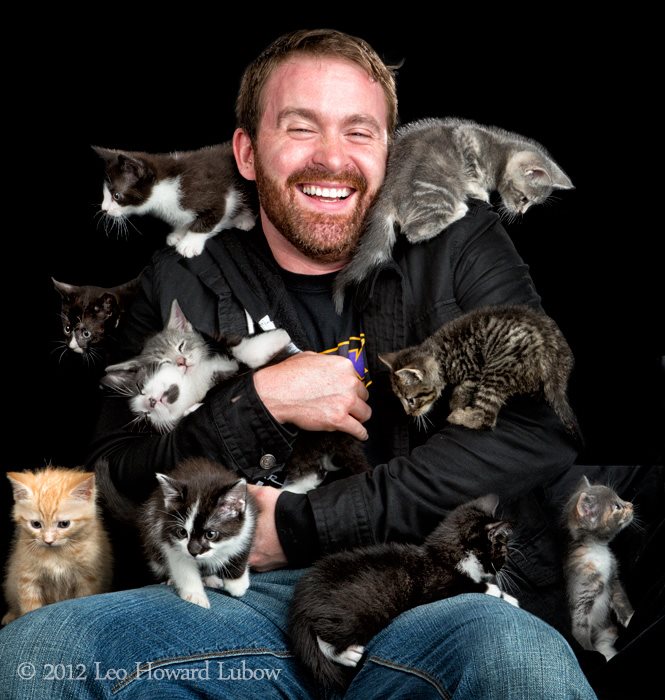 .
Justin is one of the latest men with a connection to Baltimore to stand up for animals and join the Show Your Soft Side campaign. The comedian posed with kittens available for adoption from BARCS (Baltimore Animal Rescue & Care, Inc.), and two babies were adopted during the shoot.
According to his website, "Stand-up Comedian, Radio DJ, Voice-over Talent, Actor, and cat owner, Justin wears many hats, and each one is covered in feline dander. Apologies if you have allergies, but that's your burden to bear…not his. Hit cat "Mr. Whiskers" takes precedence over you."
Show Your Soft Side billboards encourage Baltimore's youth to get the message that cool guys, tough guys, athletes and other men love and respect animals, and only punks in the worst understanding of the word hurt them.
The campaign was created through the Mayor's Anti-Animal Abuse Task Force. Show Your Soft Side maintains an active Facebook page.
The Show Your Soft Side campaign poster that resulted from the photo shoot.
About Author