A terrified cat left lying in engine oil inside an abandoned carrier almost died before she was given emergency medical treatment that saved her life and worked a minor miracle. You won't believe how pretty she looks now.
It was raining heavily when the 13-month-old tabby was rescued by a passerby who spotted her carrier in the parking lot of a Homebase store in London. The Good Samaritan took little Kimmie to the Mayhew Animal Home.
"On arrival, Kimmie was soaking wet, extremely underweight, and looked like she had been lying in engine oil," according to Marc Andre of Katzenworld.
"We can't say how long Kimmie had been outside in her cat carrier for, but she was wet, freezing cold, and very skinny," Mayhew's Animal Welfare Officer, Tania Mazzon told Katzenworld.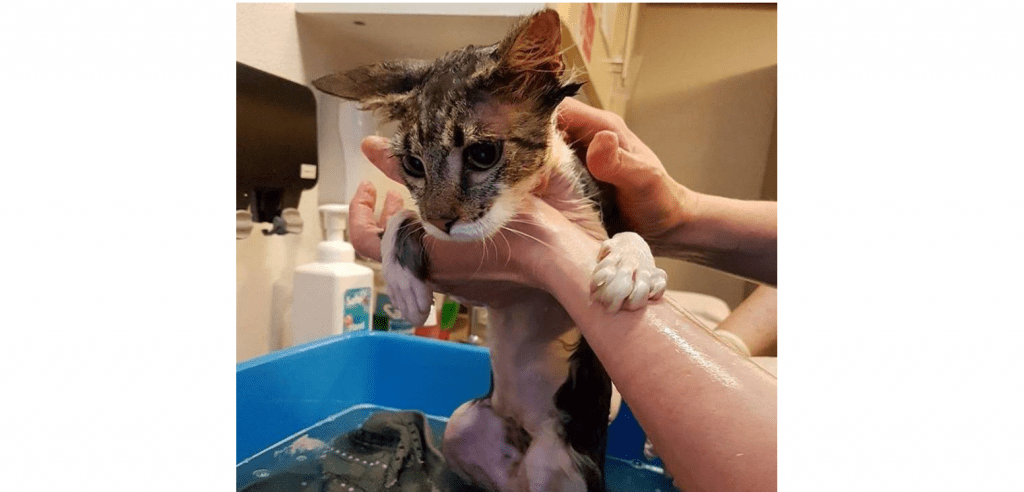 The Vet Team got straight to work. "Poor Kimmie was in a bad way," said Dr. Ursula Goetz. "It looked like she had been lying in engine oil. She was unsteady on her feet, and very underweight. Her whole body was also twitching, which we thought might have been caused by the intoxication of the oil when she tried to lick herself clean."
"The oil covered most of her stomach to the extent that she could not move her hind legs freely as it was sticking so tightly to the wounds caused by the oil on her tummy. She had to be sedated, so we could clip and clean her carefully. We delicately eased the sticky fur out of her wounds, freeing her hind legs, so she was able to move and stand again."
"The skin underneath her stomach was covered in red raw wounds, so we put her on pain relief before she woke up again to ensure she was comfortable while she recovered."
Kimmie survived it all, and just look at her now! "It was a joy to see her become cheekier and more confident day by day," said Dr. Goetz. "Kimmie is such a sweet and affectionate character; she was forever making us laugh with her playful personality."
She was soon placed with the Cat Adoption Team, who found a loving home for this precious little girl. Thanks, Katzenworld, for another wonderful report on cat rescues and adoption in the UK.