KLAS TV showed a cat's dramatic leap to safety during a fire that destroyed two Las Vegas apartment buildings on Thursday. The cat jumped from a second story balcony as onlookers cheered.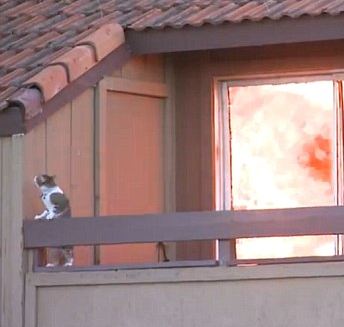 The cat's life saving descent from the burning building was a bright spot in what was a devastating three alarm fire at the Sonoma Shadows apartments that destroyed families' possessions while gutting two buildings and leaving resident homeless.
Fireworks are blamed for the blaze.
This longer video shows the jump three times, along with more audio of the crowd encouraging kitty to make the jump.