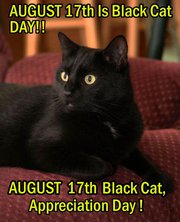 One man got the idea to honor black cats and highlight their plight as the last to be adopted at many shelters by designating Wednesday, August 17 as Black Cat Appreciation Day. Thanks to successful social networking efforts over the summer, the online event and its offshoots have made the day a big success.
Wayne Morris got the notion to honor both his sister and a beloved family pet, along with black cats everywhere, when he chose August 17 as Black Cat Appreciation Day earlier this year. He networked tirelessly and received hundreds of  photos and notes posted to the wall of his Facebook event page Black Cat Appreciation DAY!!!!!!!!!! . As of this writing there are well over 33,000 virtual attendees to the Facebook event page honoring our gorgeous black feline friends, and the appreciation day has caught on and spread.
We have seen other pages for it, articles commemorating the day without even realizing Wayne's hand in the matter, and special adoption events at shelters.
Why August 17, when we usually associate black cats with October and Halloween? Wayne's sister passed away some years ago on this date at the age of 33, just two months after the passing of her beloved 2o year old black cat Sinbad. While the day honors Sinbad and all black cats, the date was chosen to celebrate the bond we have and the love we share with our pets.
Wayne tells us that his father initially refused to allow a black cat into the family home, so his experience with the archaic yet lingering superstition about them is personal. We thank Wayne for his tireless work promoting this day … we know he has stayed up nights, going days without sleep at times, in his role as ambassador for black cats, for many weeks leading up to this day.
In addition to today's special event page, Wayne has an appreciation page on Facebook For the Love of black Cats (Black Cat Appreciation Page), which will remain active going forward.
About Author