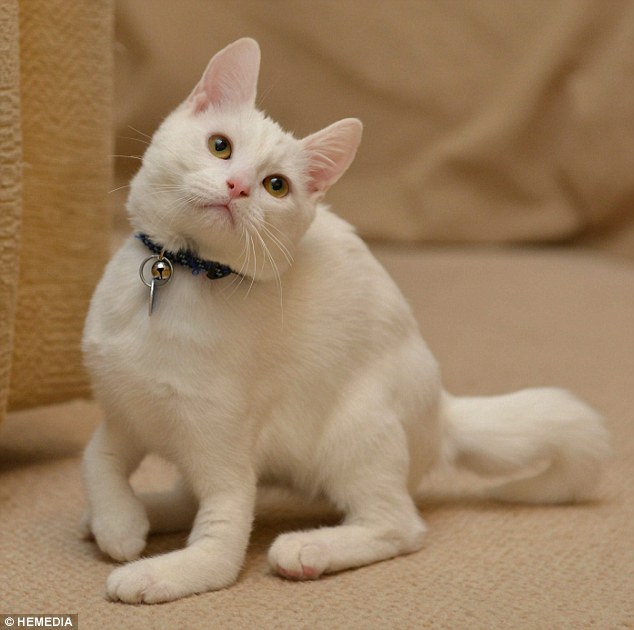 Cats Protection, Glasgow, UK is smitten with Harvey, a sweet, playful boy with the bent legs we've seen in kitties like Corky, Pip and others. The cat charity took Harvey on when a supporter found him listed at a site similar to Craigslist. Harvey is in foster care and will have surgery when he is about six months old. Veterinary doctors plan to put pins in place where he is missing bone. Meanwhile, he gets around very well and is a happy kitten.
Harvey the four-month-old rescue kitten is looking forward to a purr-fect future despite being born with bones missing from his front legs. The floppy feline, who has a rare condition called Radial Agenesis, was spotted and saved from an uncaring owner – who sold him on GUMTREE [a site similar to Craigslist]. An X-ray revealed that Harvey's ulna and radius bones, which connect the upper half of his front legs to his paws, were missing. The white kitten is now waiting for an operation to replace the bones with metal pins thanks to the efforts of animal charity Cats Protection.*
Cats Protection Glasgow writes at Harvey's fundraiser page, which easily met its £3,000 goal in a few days :
This is Harvey…our special little boy.
He came before Xmas through "Gumtree" – advertised as "10 week old kitten with two broken legs but is fine and runs around like the rest…" We HAD to get him to make sure he was ok…Harvey has no front leg bone in the front part of his legs – it's a birth deformity and although he is one of the most active, vocal, friendly and CUTEST kitten ever – he isn't in any pain at the moment but he is certainly "not fine".
Glasgow vet school has only seen 5 similar cases of this since 1975…each completely different. As he grows, the pressure on his neck and spine will increase and possibly cause him great amounts of pain…..so the specialists are discussing options that we expect to happen in the next 2 / 3 months….the most likely being he will have operations on both legs at the same time by two teams of surgeons placing internal and external pins on his legs in order to straighten them….we don't know what will happen – we are positive but will always ensure that Harvey has a good standard of life before putting him through anything or by continuing to keep him going. But we will do whatever, regardless of cost.
He will remain in CP care for the forseeable due to the level of care he needs – oh and he also has a wee kink in his tail…we love imperfection…:-) SHOW YOUR LOVE FOR HARVEY PEOPLE OF GLASGOW!!! He has been desperate to meet you all….xx
Harvey's fundraiser met and then exceeded its goal within a few short days, a testament to the kitten's charm and the good heartedness of the cat loving public.
Cats Protection Glasgow coordinator Lorraine Currie is quoted in the Daily Mail, saying "A friend of the branch spotted him Gumtree. It said in the advert he had two broken legs but when she got there he had no bones at all. She felt sorry for him and took him home but it became clear he needed a lot of treatment and that's when we got involved."
Harvey is staying with foster caregiver Liz McCulloch, who said,"He's a lovely wee thing and because Harvey was born that way he doesn't know there's anything wrong with him, so he runs around on his elbows and happily plays with my other cat and dog."
After his surgery and a lengthy recovery period, the charity plans to find Harvey a forever home.
Harvey has gone from well known local kitty to celebrity today, with coverage at several news outlets, including TV, at STV. You can follow his progress at the Cats Protection Glasgow Branch Facebook page.
.
Harvey at play.
,
"WE LOVE HARVEY. He certainly is a playful little chap despite his front legs. He just gets on with it and is an inspiration to us all. — at Cats Protection Glasgow Branch."

.
Harvey shows how well he manages the stairs.
.
*<via>