Photographer Mark Ross's artistic and affecting portraits of the cats and dogs on death row bear witness, while granting them the dignity they deserve. The artist and advocate hopes  the book will help to inspire change.
.
A former volunteer with New York City Animal Care and Control, Mark Ross has had unparalleled access to behind-the-scenes operations at New York's high kill 110th Street, Manhattan shelter facility. His original intent was to photograph shelter animals to aid in adoptions, but his interest turned to the cats and dogs whose lives were in danger at the shelter on a daily basis. With cats and dogs entering the too-small shelter in a continuous stream, those deemed less adoptable are only given a few precious days in which to be rescued or adopted, on order to make room for the endless number coming along after them. The book's 76 portraits document some of those animals who may or may not have made it out of the NYC ACC alive.
.
Mark's compassion for the death row pets led him to begin posting them on Facebook, a practice that led to cross-posting and networking among rescuers, advocates and adopters, and their friends. As many readers know, because of their own involvement or through happenstance, two Facebook pages, Pets on Death Row and Urgent PART 2, are devoted to posting the animals who are in immediate danger.  Rescuers, cross-posters and others share the images and stories of  the unfortunate animals whose lives depend on someone being able to save them within a very short window of time. Some animals are saved, some are not.
Mark gives his purpose in publishing Animal Shelter Portraits:
In putting this book together, my mission was to offer an inside look at some of the many animals that enter a high-kill city shelter; mostly former pets and at the same time, family members, though not always that, having been abandoned or relinquished for many reasons, none of them good ones. To see up-close and personal what these precious creatures look like and perhaps even feel like as they await their brief and uncertain fates. All these wonderful companion animals share one thing in common and that is that they have been given up and now have no place to go. The great majority of these wonderful animals will never even be seen or known of by the general public and because of that sad fact, many if not most, will die. The public has to be made aware of the striking fact that they (the public) are the only chance for a reprieve these sad and lonely, suffering and incarcerated poor souls have at living out their lives and at regaining their freedom. I would hope to open some eyes and hearts with this book; to educate by example and by reference and to shake and perhaps awaken the unknowing public to this terrible dilemma. That is my mission. You can help. Get involved in some way, any way you can. Volunteer, foster, adopt, rescue, make a financial or material contribution and do it now. This is important work!
In addition to bearing witness and illuminating the public, the book will also help with advocacy efforts on behalf of companion animals. Proceeds from Animal Shelter Portraits will benefit the national organization, No Kill Advocacy Center.
.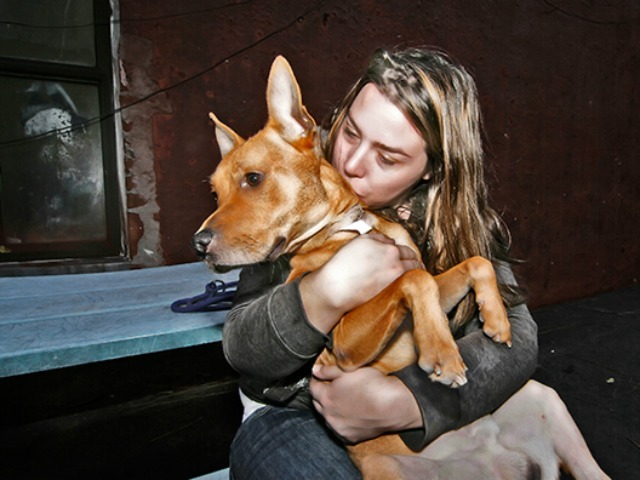 .
.
Animal Shelter Portraits is published by Random House. The release date is March, 27, but it is available for pre-order at Amazon.com and other outlets. List price for the hardcover is $16.95, but amazon is offering it at a discounted price.
There is a Facebook page Animal Shelter Portraits set up around publication of the book.
About Author