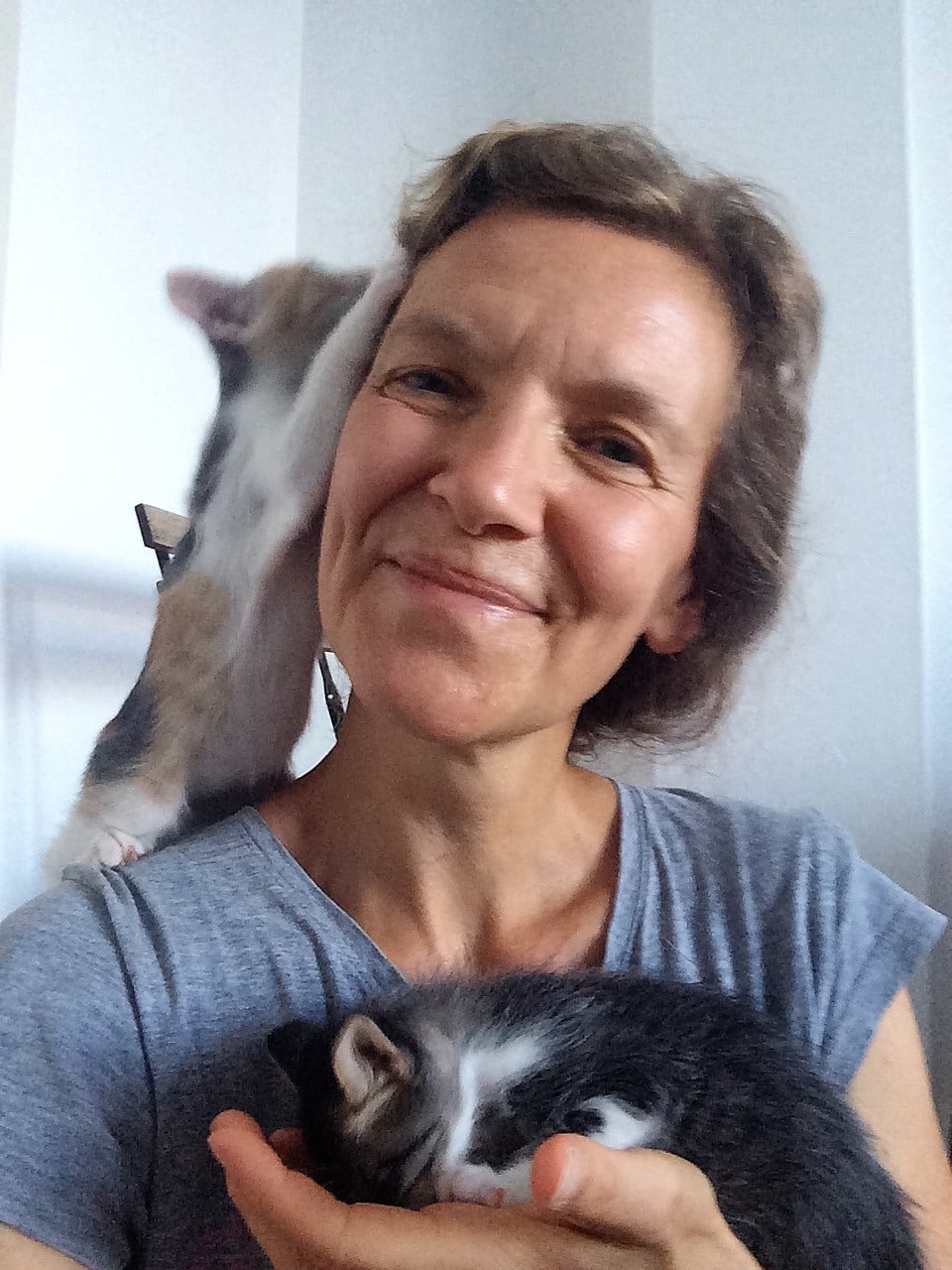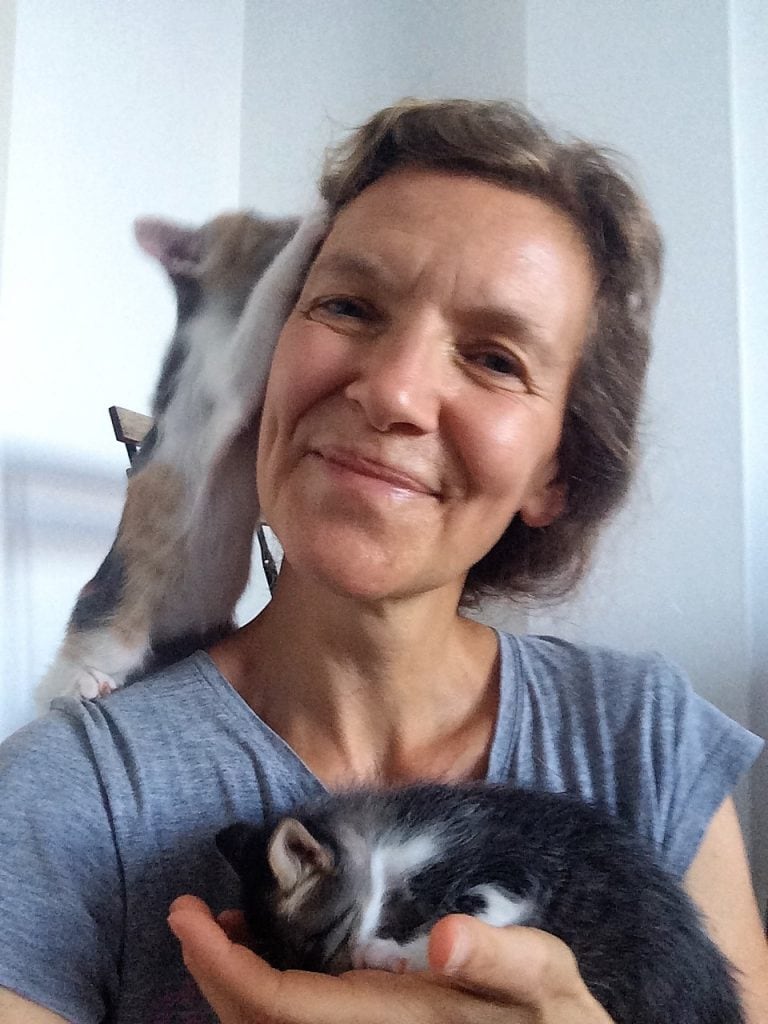 Some of you may have read the wonderful rescue stories from God's Little People of Chili and Cookie, but the woman behind the rescues, Joan Bowell, is, herself, nothing short of remarkable.  In chatting with her, we found that years ago she had heard about, and was inspired by, the amazing work being done by Lynea Lattanzio at The Cat House on the Kings, perhaps laying the groundwork for the future. This amazing woman was kind enough to take some time out to share some of her own story with Life With Cats, about how she came to Greece, her artistic talents, and, most of all, her love of cats.
LIFE WITH CATS:     Where are you originally from and what drew you to Greece?
JOAN BOWELL:      I'm originally from Denmark where I used to volunteer in one of the major Danish cat shelters. Then almost 7 years ago we decided to move to Greece for health reasons. For many years we'd found ourselves returning to the same largely unknown Greek island on our summer holidays and each time I found myself getting involved in feeding and caring for sick cats. I'd come to learn that cats had a very tough time throughout Greece. They're considered a pest like rodents and I'd heard countless stories about them being poisoned, burnt, thrown in the ocean, kicked – and both sick cats and newborn kittens are regularly thrown in the dumpster. Basically it's a very ignorant culture with an old agricultural mentality when it comes to animals. So part of the reason for choosing to come here was that I knew I could serve some purpose with the unwanted cats. Things were only gradually beginning to move in a different direction with regards to cats and animal welfare and I knew I wanted to make a positive change. Still, my involvement in cat rescue rather 'happened upon me'.
LWC:      How did your cat rescuing begin? Was it something you had done before or was this a new venture?
JB:          We'd only been here for a few weeks before two tiny feral kittens appeared in our Greek garden. I discovered one of them had a bad respiratory infection and thus began my first experience with dealing with a feral kitten… not an easy task!! I managed to trap him and bring him to the vet. Kitten though was so feral that the vet couldn't examine him and I was sent back home with the words that 'it was very bad' and I shouldn't expect him to survive. But I'm a person with a lot of patience so I sat for hours each day luring sick kitten with canned food with antibiotics twice a day. After 14 days he was much better and he made a full recovery! He and his brother still live in our garden 6 years later.
A few months later I made my first "dumpster cat" rescue. It was overwhelmingly sad to experience just how many cats lived around the dumpsters – surviving by scouring through the garbage. I'd spotted this sad but incredibly sweet kitten. He was sat among a small colony of adult cats fighting over the scraps they could find in the dumpster. After noticing him a few times there was a cold and rainy day where I saw him looking really poorly and drenched from the rain. Apart from being sick with cold he had several bite wounds and a had a huge abscess on the side of his face – he'd clearly been attacked by a adult cat! I didn't hesitate – I knew he'd die if he wasn't rescued and so began a long string of rescues off the street.
LWC:      For how long have you been doing this and how many cats have you been able to take care of and save?
JB:          With no cat shelter to turn to I had no other option than to bring the sick and dying cats back home. By the end of the first year I'd rescued a total of 30 cats and realized just how big the problem was! I honestly had no idea!!
LWC:      The name of your rescue, God's Little People, was inspired, correct? Can you share its meaning for you?
JB:          During the first year of rescue I started writing about the rescue on my blog God's Little People. I started my blog before moving to Greece and it was just intended to share inspiring stories about animals under the mantle; "ANIMALS SHARE WITH US THE PRIVILEGE OF HAVING A SOUL" – a quote by Pythagoras. It resonated with the sentiments I'd come across in the teachings of a wise man. He spoke so reverently and respectfully about animals and referred to them as 'God's little people' and humans 'God's big people'. He explained how humans have both a soul and a spirit and animals only have a soul. Therefore humans are Gods to animals and so whenever humans mistreat an animal – that would be how the animal experiences God. This understanding lodged so deeply within me. I couldn't bear the thought of animals feeling God to be cruel at the hands of humans. So basically I wanted my blog to be all about a compassionate approach to our interaction with animals… My cat rescue came later but it felt natural to use the same name and carry on with this beautiful understanding.
LWC:      You shared that as things have progressed you found yourself in need of funds. In what ways are you reaching out to the public for support?
JB:          After privately covering all the costs for the cats for more than a year, the expenses became so huge that I started writing on Facebook, too, and involved people in the rescue stories and asking if they wanted to contribute to the cats. I was positively surprised at the wonderful response the first time I asked for help to raise funds for one of my rescues in need of dental work.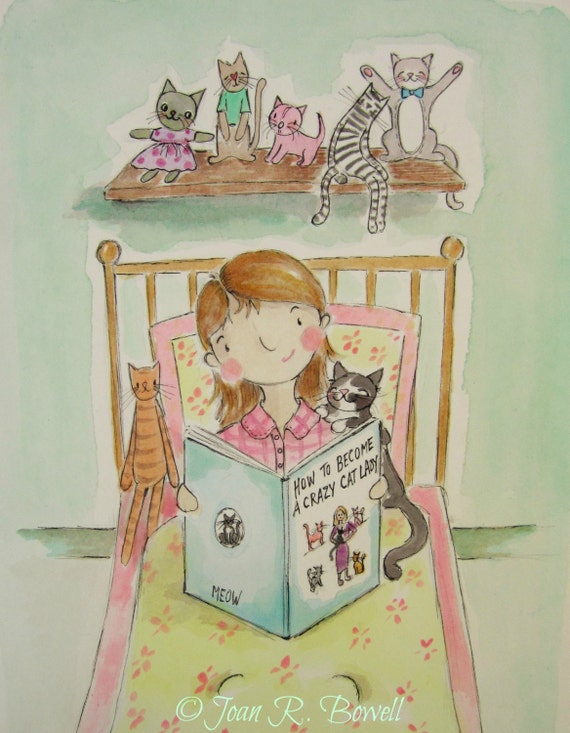 LWC:      Can you tell me a bit about your artwork and how you decided to use it for the rescue? And is art something you have always done?
JB:         At this point I realized that I really needed to make much more of an effort to raise funds – I just simply couldn't keep up with the costs involved. So I turned to my background in art and design – I studied at The Royal Danish Academy of Fine Arts – and started making illustrations based on all the silly and whimsical moments I witnessed with the cats. I started selling the originals and made cards and prints for sale in my Etsy shop with all proceeds going directly to the cats. Also to keep things afloat I started doing sponsorships. All the while trying to hone my photographic skills to create nice photos of the cats and each day share new stories and images from the life of all the cats. Quite a task to do it all singlehandedly while also caring for all the cats. Since the first year it has steadily grown with 10 cats each year and we now have 60+ rescue cats plus feeding 15-20 stray cats each day.
LWC:      How is your husband with your rescue efforts?
JB:         My husband is my greatest supporter and cooks all the meals and is always ready with a cup of coffee to keep me going. I'm responsible for all the cat rescues apart from one special character named Snowy. He is my husband's one rescue from a time I had to leave the island. I was very proud to come back home and find this to incredibly sweet kitten which my husband had saved from the brink. Today he is the mascot of our place!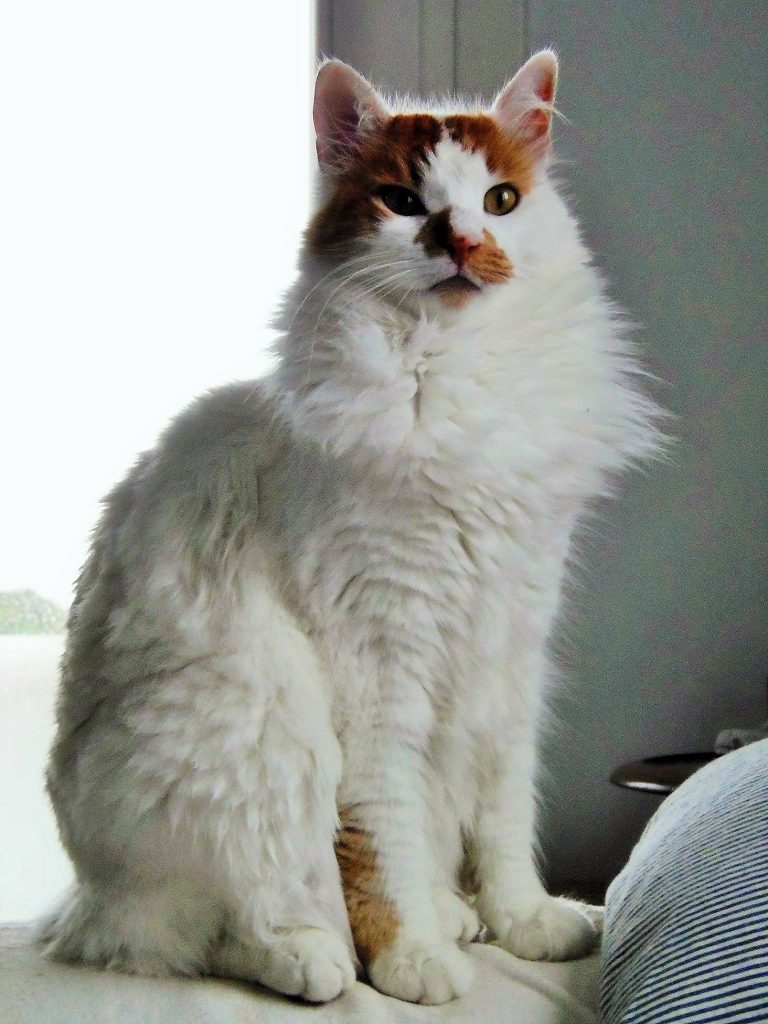 LWC:      What are your most immediate needs for God's Little People at this time?
JB:         Sick and needy cats never cease to appear and each year comes with its orphaned and sadly discarded litters of kittens, but since we've basically just opened our home and garden for the cats – the lack of space and not least funding is a pressing issue and both sponsorships and the sale of my art is essential in keeping it all going. Adoption is another big and pressing issue. As it stands right now I simply couldn't squeeze another cat in and the only way to make room for other needy cats is by some of all my amazing rescues to find loving adoptive homes.
LWC:      What might surprise people to learn about you?
JB:         My life is all about the cats but people might be surprised to learn that I'm not a collector of 'all things cat'! My kitchen cupboards are not full of mugs with cute cat faces and my living room is not fitted with cat figurines or cat art on the walls and I don't wear cat jewelry or T-shirts with cat prints! Still, I appreciate unique and whimsical cat inspired art and I LOVE making silly and whimsical illustrations based on the cat antics I observe on a daily basis. Right now I have a selection of cards and prints available in my Etsy shop – all proceeds goes directly towards food and medical care for all the cats in my private sanctuary and the many stray cats I feed each day. I post new stories and images each day. I have a great passion for photographing the cats in their world and my photography has become an indispensable way of recording all the rescues and daily stories.
To follow Joan's blog, please visit God's Little People and her Facebook page or shop at Etsy to support her work.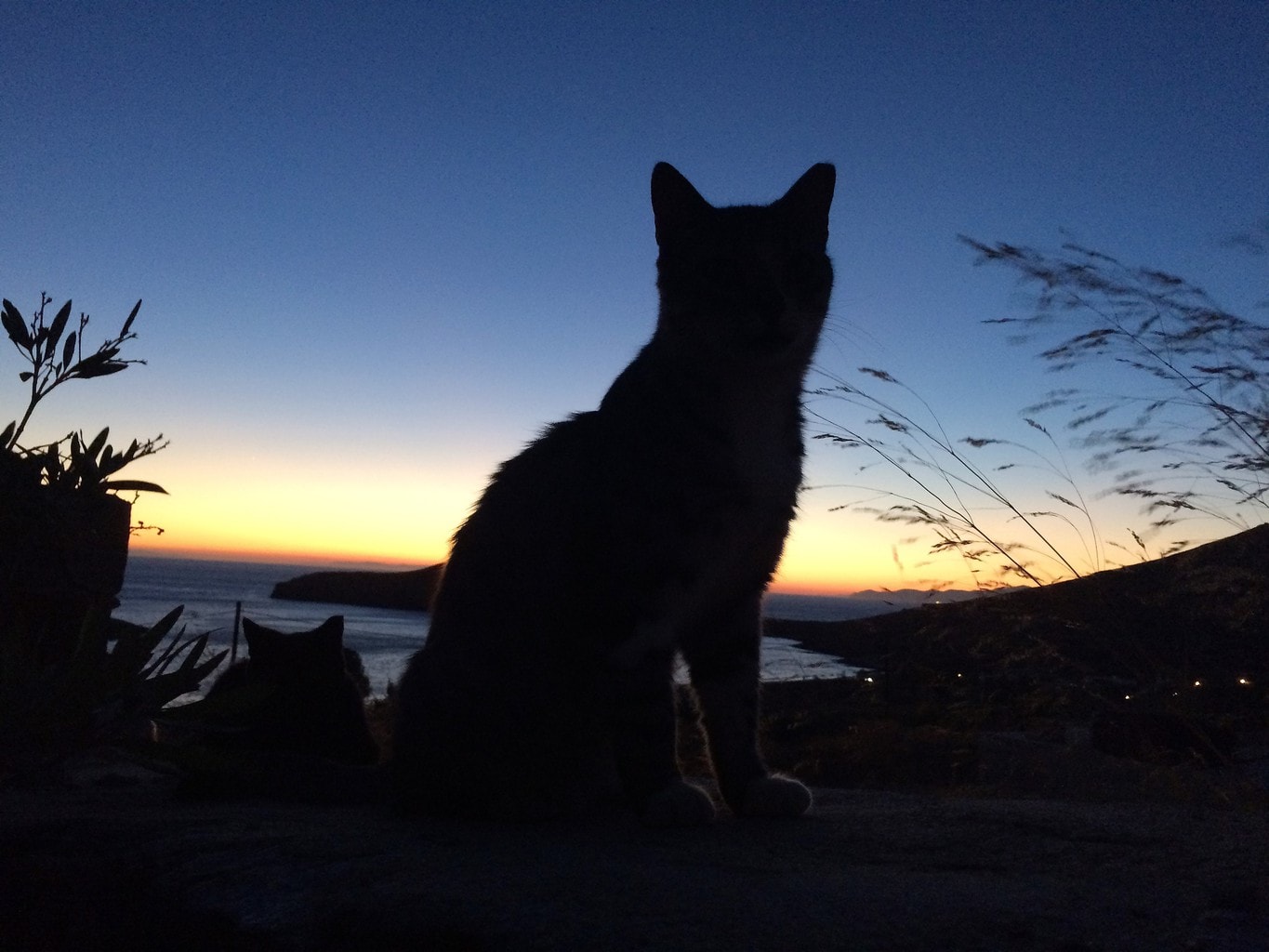 About Author