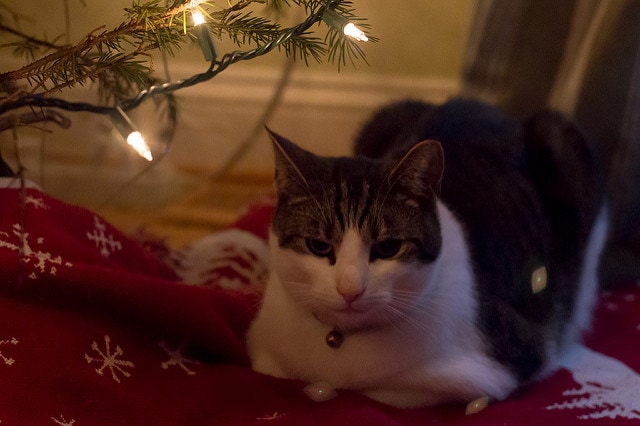 The holidays bring with them all sorts of special treats and decorations, but holiday celebrations can also pose dangers to your cat. That's why it's important that you plan ahead in order to keep your cat safe during the holidays.
Start by carefully assessing your decorations. Items like tinsel can prove deadly if your cat swallows them. Common holiday flowers like poinsettias can also be toxic to cats. As you decorate, make sure to keep any dangerous decorations out of your cat's reach, or better yet, in a room your cat cannot access. It's safest to avoid these dangerous decorations altogether.
When it comes to holiday foods, you'll need to keep a close eye on your cat. Common holiday foods like raising and onions are toxic, and it's never good for your cat to ingest too much people food. Carefully supervise your cat whenever food is out.
Don't forget that holidays can be stressful to your cat. Strange visitors and people coming into and out of the house may make your cat feel insecure. If your cat is an indoor-only kitty, it's really important to let all visitors know that your cat shouldn't be let out of the house. Try to keep company out of one room, leaving that room as a quiet refuge for your cat during holiday time.
Holidays are busy and exciting, but don't forget that your cat also needs some one-on-one attention. From setting up decorations to overseeing gatherings, there are a number of ways to help keep your cat safe this holiday season.