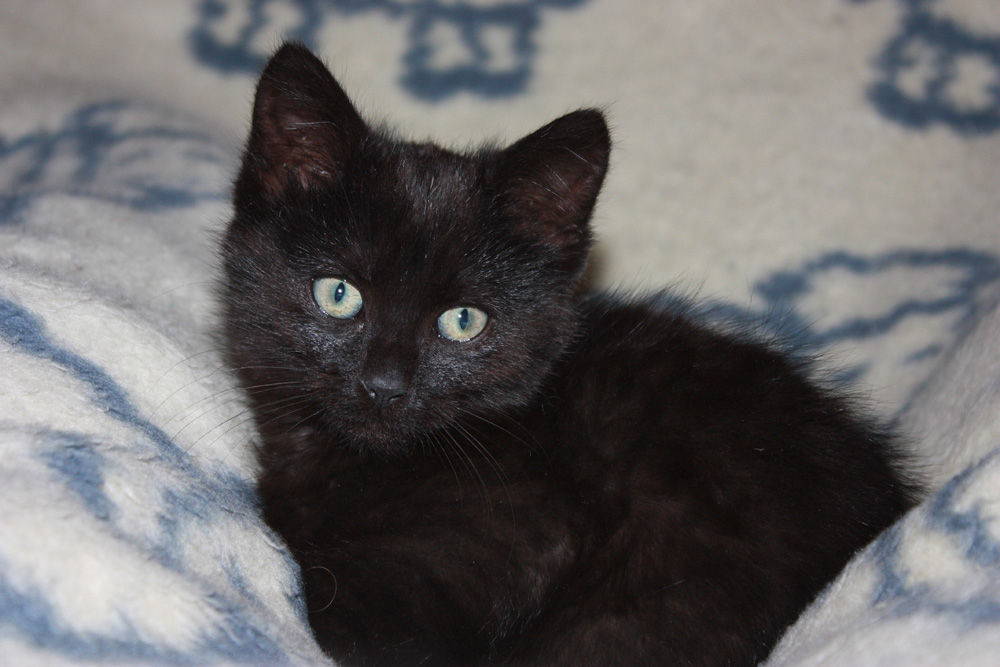 Guest post by Bernadette Kazmarski, with the story as provided by Karen Sable
Bernadetts writes:
My friend Karen Sable, knowing how I love black kitties, e-mailed me last week with a short note laughing at herself about being a failed foster and smitten with her kitten, and introducing Callie with a few photos. She mentioned a bit about how and where Callie was found, and in our e-mail exchange mentioned a little more about the growing list of people who had helped to rescue the injured kitten—I told her I'd love to write this up as a rescue story and was intrigued at all the generous people who literally went miles out of their way for this kitten. Promising to find out as much as she could, she wrote it up and sent it to me.
. . . . . . .
On the cold evening of Friday, November 9, 2012, a young woman was out for a walk in Seward, PA. She spotted a small kitten with a badly injured leg in some shrubs along the road. She picked the kitten up and proceeded to go to all the houses along the road to see if the kitten belonged to anyone there, but no one claimed it or knew anything about it, so she took the kitten to the Seward Police Station.
It just so happens that the Seward police chief, Robert Malnofsky, is an animal lover. Chief Malnofsky called the mayor of Seward, who is also an animal lover, and the two of them tried to find an available veterinarian to treat the kitten. They called the office of a local vet, but it was closed. So they placed the kitten in a shoe box, wrapped it in a towel, and drove to the veterinarian's home in Ligonier, but she was not there.
Since it was late in the evening and no other vet offices were open, the Chief contacted the Westmoreland County 911 Center to see what help might be available. The 911 Center contacted Ms. Lori Mozina-Ogurchak, the coordinator for the Westmoreland County Animal Response Team (CART). Lori in turn contacted one of the CART members, Patti Levay, since Patti lives in Latrobe and is closer to Seward. Patti actually operates a rescue herself, Guardian Angels Pug Rescue, in Latrobe, and Patti agreed to go get the kitten. Patti contacted Chief Malnofsky, who advised her that he and the mayor were now in Ligonier, and would gladly drive the kitten to Latrobe, so they arranged to meet in the parking lot of the Sheetz in Latrobe.
Patti met the Chief and the mayor, who had driven the kitten there in a patrol car, obtained some information from them, then took the kitten back to her rescue's shelter where she cleaned and bandaged the kitten's injured leg. Patti then called her own vet, Dr. Melissa Voll-Stouffer of Ridgeway Veterinary Clinic in Derry, PA, who said she would see the kitten first thing in the morning. Patti gave the kitten some food and water, placed her in a warm travel crate, and the kitten started purring and soon fell asleep.
The next morning, November 10, Patti took the kitten to Dr. Voll-Stouffer. She x-rayed the leg and found that it was not broken, but it did have a very deep laceration that had to be debrided and sutured. The vet treated the kitten, and felt it best to keep her overnight while she recovered from surgery. That afternoon Lori Mozina-Ogurchak sent out a request to all of the Westmoreland CART members asking if someone would be willing to foster the kitten until she recovered from her injury and could be placed for adoption. The CART itself is not authorized to do adoptions, but since both Lori and Patti operate their own rescues, either of them could process an adoption through their rescue organization.
Since I'm home most of the time, and feel pretty comfortable caring for a pet with medical needs, I volunteered to foster the kitten. So, on Sunday morning I met Patti near Greensburg in the Petco parking lot and picked up the kitten. She weighed about 2 lbs. and it was estimated that she was probably 7 weeks old. I probably should have known how this would turn out, but I really did intend to only foster the kitten until she was recovered, and then I figured we would be able to find her a good home. Of course, the moment I saw her I was smitten!!
Over the next couple of weeks I took care of the kitten, administering her antibiotics, checking her leg to make sure there was no sign of infection, trying to keep her from being too active while her leg healed, playing with her, supervising her when she played with my other cats, holding her while she slept, and falling more and more in love with her. When it was time for her to have her sutures removed and get her first round of kitten vaccinations, I took her to my vet, Dr. Aileen Ruiz at The Big Easy Animal Hospital. They asked for her name for their records, so I had to decide on a name. I had resisted doing that, as I felt that once I named her I'd be claiming her as my own.
I decided on the name Callie, as I thought it was cute, like the kitten, and I liked that name anyway from one of the characters on Grey's Anatomy. That was on November 24, and on November 27 I signed the formal Adoption Agreement through Patti's Guardian Angel Pug Rescue (she had to tweak her Agreement a bit to change the wording from pug to kitten )
So now I am officially a "Failed Foster", and proud of it!! I resisted for a whole two weeks, but everyone who knows me said from day one I would not be able to give Callie up. As of her last vet visit on December 15, Callie was up to a whopping 3 ½ lbs. She has a great appetite, is running and jumping and playing and keeping me on my toes. She does not appear to have any lasting effect from her injury, other than a thin scar and an indentation in her back leg. She gets along well with my other cats, and they are doing a good job of teaching her how to be a good cat. She has claimed her spot on my bed, and in my heart.
A number of people played a part in this story having a happy ending, from the woman who initially found her and took her to the police station instead of walking by, to the Police Chief and Mayor who went above and beyond to get her the help she needed, to Lori who called upon the resources of her CART team, to Patti who cared for Callie that first night and got her to the vet. Were it not for all of their efforts, Callie likely would not have survived through that night. I truly did not need or want another cat, but I now can't imagine not having her here.
.
. . . . . . .
Mileage for this kitten: the Chief and mayor drove 19 miles from Seward to Ligonier to try and find the vet. They then drove 12 miles from Ligonier to Latrobe to meet Patti at the Sheetz. They would have then driven another 29 miles to get back home to Seward. Patti drove 5 miles each way to her vet in Derry, then when Callie was discharged another 5 miles from Latrobe to Derry to pick her up, and 15 miles from Derry to Greensburg where she met me at Petco.  And I drove 34 miles each way from Munhall to Greensburg to meet Patti and pick up Callie.
That's a lot of people all running around in the night to take care of one little kitten! A lot of compassionate people, and we're glad every single one of them was there for Callie.
---
This article is reprinted from with The Creative Cat the author's permission. The text and all images used in this article are copyrighted to Bernadette E. Kazmarski unless otherwise noted and may not be used without written permission. All photos here courtesy Karen Sable.

For more guest post articles from Bernadette E. Kazmarski  at Life With Cats, click HERE.