Q: "I have two Glorious cats, very different. Sam is two, very quiet and lovely Millie is one, and a rescue cat, long haired, she is very lively and playful, but won't sit on my lap or let me cuddle her. What should I do?" – Clare B.
A: I've had numerous clients who have wanted to make their kitties more cuddly and believe it or not, you can. You have to start at your kitty's comfort level. Knowing the personality of Millie and what she can and cannot tolerate is important. For instance, can she be held for a short period of time? Can she be picked up and placed on a bed, sofa or cat condo? Can you pet her, and on what parts of her body does she like to be petted? If you reach for her, will she run away?
Once you make a note of what Millie does and doesn't like, you can gradually get her acclimated to touch by desensitizing her to it. Desensitization means to gradually expose Millie to your touch and approximations of being picked up at a level that is comfortable for her, meaning at her pace. Often people's expectations of what they want from their pets aren't realistic at the time they are wanting them. For instance, if Millie doesn't like being stroked on her cheeks or doesn't like being touched or held gently on her lumbar area  (the sides of her tummy/hips, below her ribs), she is more than likely not going to want to be held on your lap.
Begin where Millie feels comfortable and gradually acclimate her to touch. If Millie dislikes being stroked on her head, start at her tail. If she dislikes being touched on her tail, start at her shoulder blades. In general, cats like to be touched and stroked on the top of their head and forehead (in between their ears), massaged gently on the occiput (the little boney area/protusion at the base of the skull), on their cheeks, and along or under their chin. They also tend to like on the back of their neck and to the left or right of their spine around their shoulder blades and torso region. Cats tend to dislike being stroked on their lumbar region (sides of their belly area below their rib cage and above their hips). Cats tend to like the rump area at the base of their tail, and the base of their tail.
Leave Millie wanting more. In other words, if Millie walks away or pulls away after 3 strokes, touch or pet her only once or twice, then let her be. Stop petting her and touching her before she feels the need to get up, leave or walk away.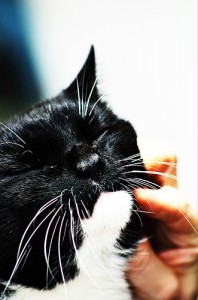 Pair your touches with food. Feed her at the same time as you touch her, or immediately afterwards. If she enjoys special treats or wet food, use this opportunity, and place your hands on either side of her body and 'scootch' her to the food. This is an example of desensitizing her to being picked up. If she enjoys the food, gently lay or rest your hands on her lumbar region or pet her once or twice, then let her eat. Never continue to pet her after she is finished eating.
Begin to pick her up or lift her gently to areas she likes or enjoys. If she likes a window perch, pick her up and place her there when there is a bird outside the window. If there is a special, fluffy heated kitty bed available for her, pick her up and place her on it. Pair treats with your touches and pick ups. Make sure Millie develops a positive association to your touch.
Make your home environment kitty friendly. Cats love warmth and soft, fluffy sleeping areas. They also like cat perches and condos. See Tips to Have a Happy Cat. By providing your kitty with clean, warm, soft surfaces to lay on and providing your kitty with more vertical territory, your kitty will be happier and will likely become more 'cuddly' over time.
Lastly, if you are wanting your kitty to be more affectionate and cuddly, allow your kitty to sleep on the bed with you. Often, kitties who sleep with their people are more affectionate and bonded to them than kitties who are locked out of the bedroom.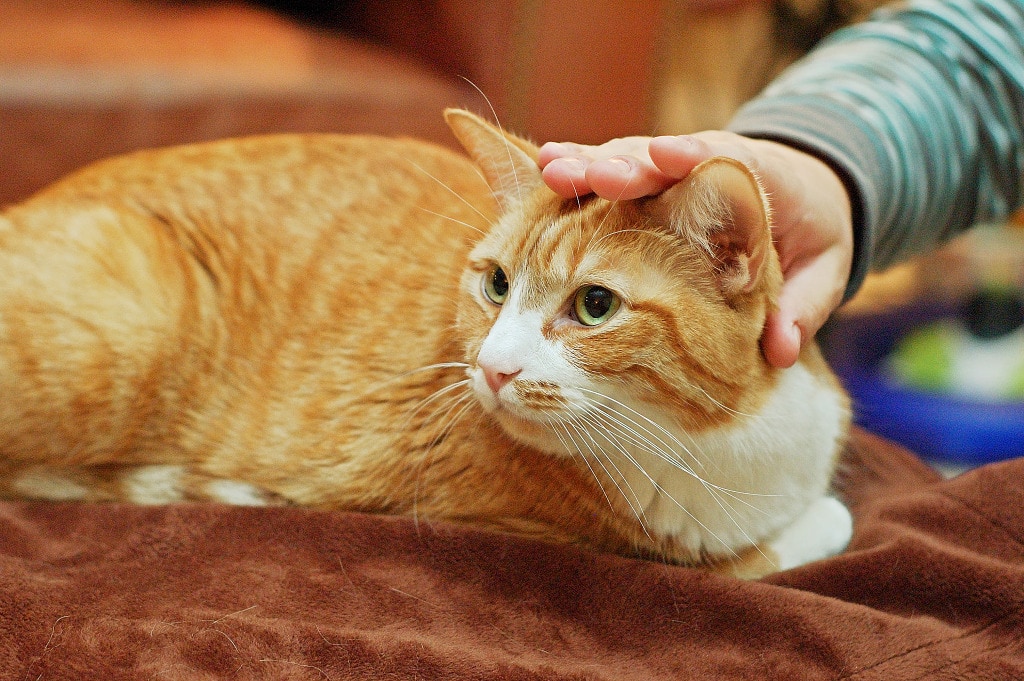 Copyright © Alana Stevenson 2013
Alana Stevenson can be contacted through her website www.AlanaStevenson.com. She provides consultations by phone and Skype.
.
.
.
About Author