Howard was rescued in Afghanistan by a soldier who will bring him home to the UK, with the help of Nowzad and the generosity of animal lovers.
Nowzad operates a shelter and clinic in Afghanistan and assists soldiers in taking their dogs and cat companions back home with them.
A news release from UK based insurer Animal Friends Insurance, where the soldier's daughter works, and which contributed to the cause, tells the story:
Animal Friends Insurance supports staff member Clare Metcalfe to bring a little cat named Howard, who was being cared for by Nowzad in Afghanistan, to a safe and loving home in the UK.
Howard had been found by Clare's father, Captain Alan Barker who is currently stationed in Afghanistan. Howard, a young and playful black cat was found suffering from an injury sustained from trapping and was in desperate need of urgent care. After initially cleaning his wounds, Alan took him to Nowzad animal sanctuary near Kabul to be treated and cared for until he fully recovered.
Since rescuing Howard (named after Alan's old unit 'The Green Howards'), Alan was determined to raise the funds to bring him back to the UK, to live with his other cat who he rescued while stationed in Cyprus four years ago. A JustGiving page was set up to raise £2,000 to pay for a passport and the necessary checks Howard needed to take him away from an uncertain life in Afghanistan.
Almost half the funds had been raised to bring him home, when after hearing about his plight, Animal Friends Managing Director Elaine Fairfax immediately offered to pay the remaining balance of £1111.38 to help Howard start a new, happier and healthier life in the UK.
Captain Alan Barker said: "working and living in Afghanistan at the best of times can be quite difficult and animals take a very low priority in existence over here. Whilst being here, I have witnessed unnecessary cruelty to so many animals, so when the opportunity to help this young cat came along, I felt very strongly that I had to try and do something. Chris and Elaine's support has meant the difference between life and death for Howard. The generosity of some people and organisations like theirs has been so inspirational."
Pen Farthing, founder and chairman of Nowzad Dogs said: "to be able to support the reuniting of a soldier with the companion animal they adopted on the frontlines in Afghanistan is an enormous feeling of 'mission accomplished' for all the team at Nowzad Dogs. From our clinic and shelter staff in Afghanistan to the office staff in the UK and US and our fantastic supporters who fund every rescue that comes through our door – thank you so much."
.Howard is now set to be in his new home in the UK with Alan in four months' time.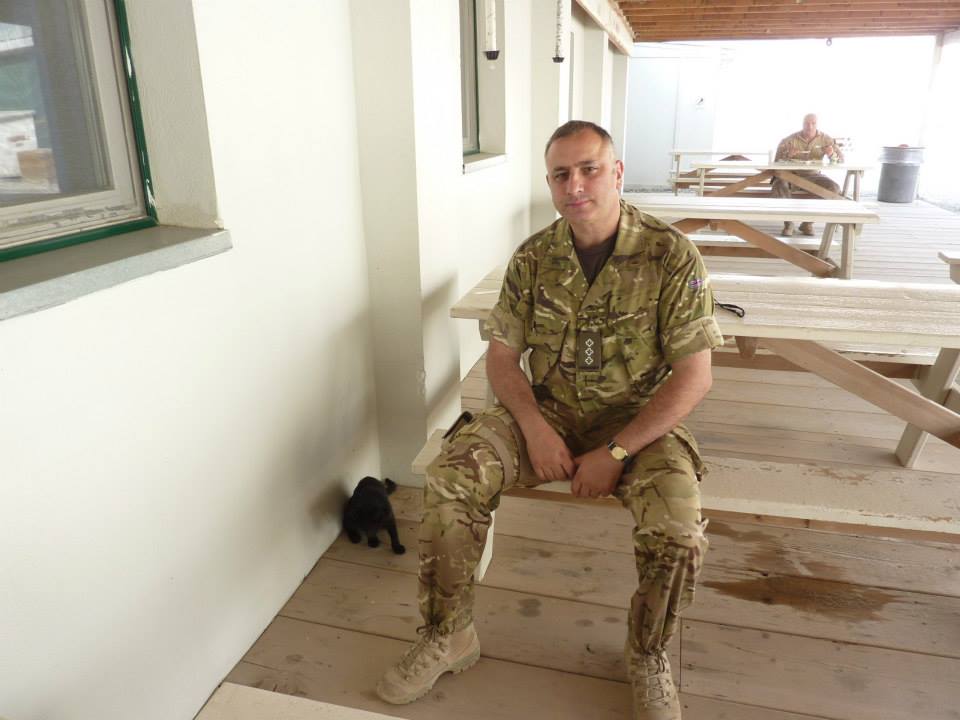 .
Alan Barker tells his and Howard's story at the JustGiving fundraiser page that collected donations to help Howard get to his new home.
Howard's story as told by his soldier:
Those who have met me will know I'm a bit of a softy when it comes to animals. Having just recently lost my dog after 15 years I was devastated, made worse by the fact that I was away.
I am currently working in Afghanistan in the military and the base that I am staying at has a number of cats that hang around the cookhouse. Periodically, these cats are trapped and later destroyed but some, sadly, face a far worse fate.
Four years ago, whilst stationed in Cyprus, I found an abandoned feral kitten that I had no luck re-homing so I ended up taking her myself. At the time I remember being worried that my dog wouldn't accept the kitten and I was pleasantly surprised when they seemed to get on. Bizarrely my dog did chase her on a daily basis but they were good friends. Now that my dog has gone my cat does look for him daily which is very sad.
4 weeks ago another cat took up residence near the cookhouse and I named him 'Howard'. My old unit, 'The Green Howard's', is disbanding this month after 325 years, so Howard seemed appropriate at the time.
Howard is a young playful black cat who, like all the other cats here, is only trying to survive. Afghanistan can be quite a harsh place to live if you're a human let alone an animal, rumors were circulating that another cull was planned in the near future and although I can't save them all, I want to try and give Howard a chance.
Without the exceptional support of charity organisations like Nowzad cats like Howard wouldn't stand a chance. Funded solely through donations, what they do is absolutely fantastic and can at times be dangerous given the security implications here.
I would like to give Howard a new home and hopefully fly him back to the UK with all the necessary checks. To repatriate a cat back to the UK costs in the region of £2000+, a lot of money for a cat some might think. Money need not be the difference between life and death for Howard and with your help, he can make it home to the UK.
I will be donating a healthy sum but I do need your help desperately! Make a difference, not for me but for Howard who is just trying to survive. Donating £1, £5 or £10 (or Dollar equivalence) will secure the Howard's future and give him a good home.
I return home after 8 months deployed; my experience in Afghanistan has been quite sad at times and although work wise I have found it rewarding, bringing Howard home would be a wish come true.
Please help and give generously.
Alan (British Soldier)
.
.
<via>