.
Police responding to a 999 call – the UK equivalent of 911 – broke through the door to a London flat to get in and were surprised to find the family cat had rung them up and was home alone at the time.
When London policemen responding to a silent 999 emergency call on October 17 got no answer at the door of the residence where the call was made they broke the door down to gain access to the flat and were bemused to find the caller was a Singapura kitten named Bruce whose owners say he is fascinated with the phone.
A neighbor let the officers into the building and told them she thought the residents were away at work.
Bruce's owner James Cocksedge arrived to find the officers at his home, his door broken and off the hinges, and his cat sitting in the closet, reportedly "looking very naughty," as police described him.
Cocksedge said he knew who was behind the commotion when an officer told him, "Don't worry the cat is fine." He explained his cat's fixation with the phone, saying, "Since we had the landline installed Bruce always rushes to answer the phone when it rings. He's also fascinated by the buttons, which he loves to press."
Despite facing the expenditure of several hundred pounds to replace the door, Cocksedge says he does not fault the police. "They were only doing their job," he said. "They did receive an emergency call from our address. For all they know something really dangerous was going on in the flat."
Bruce is getting his moment of fame and does not appear to have lost his phone privileges … .
.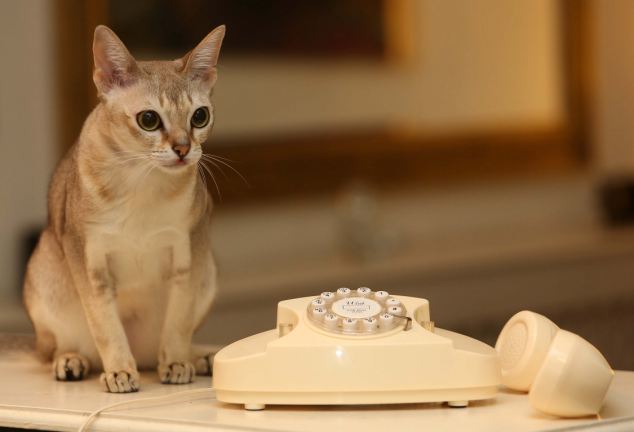 .