Look at Dutchess now! This sweet girl was severely burned in a house fire at her home in September and is now greatly healed, with her fur grown in and the bandages removed from her legs. Even the areas that appear raw and open around her eyes are not so bad as they might appear. Her eyelids are turned back due to shrinking tissue as her burns healed. They will be repaired in a surgical procedure before much longer. Dutchess lost her paw pads and her toes fused together, but she can walk, and the healing process on her feet continues.
Dutchess' legs and feet sustained the most serious injuries from the fire, but her head looked worse to those of us viewing her photos, with the fur burned off and her skin showing. At first she had a charred appearance.  A Facebook page set up toward the beginning of her treatment at the University of Illinois Small Animal Clinic broght a following of supporters, along with some commenters who suggested she'd be better off being put down. Dutchess' rescuer, who has become her champion and guardian of sorts, her family, and her caregivers all felt strongly that Dutchess' inner strength and will to live far outweighed the severity of her injuries. Dutchess has fulfilled the promise that she would recover and thrive.
To briefly recap the circumstances that brought Dutchess to U of I, she was trapped inside when her home burned, and was rescued by firefighter Toni Day, who picked her up from her hiding place beneath a sofa and handed her to out through a window to someone on the outside, thinking she might be too far gone to survive. She was taken for emergency care at Central Illinois Small Animal Rescue. A few days later, Dutchess' guardian Jackie Jones took her to the University of Illinois' Small Animal Clinic, where she has remained while receiving care. The Jones family lost everything in the fire, except for Dutchess. Toni Day and her partner set up the The Dutchess Burn Fund Facebook page to help raise money for her care, but the page became a place to celebrate the cat as she healed, and for Dutchess' photos, videos and updates to be shared, as she made a remarkable recovery.
For more background on Dutchess, see our earlier stories, HERE.
The recent updates on Dutchess' progress that follow are provided by Toni Day, who is closely involved and highly informed on her medical care. They were were made at Dutchess' page.
"Her eyes are perfect and her eyelids will be corrected soon, and she appears to have full visual ability based on her opthamology exams.
"Update on Dutchess' Eye Surgery: We spoke to the Ophthalmology Dept. today (Friday, December 14) and got some good news about her upcoming procedure. She will be able to have a more simple surgery than we originally expected, and she will not require any skin expansion before her surgery. We will be waiting until the end of January or the beginning of February before she has the eye surgery to ensure that she is fully healed, and the eye surgery is a 1 day procedure that does not require any extended stay at the U of I. Dutchess will be able to leave the U of I once her leg is fully healed and just come back for her eye surgery!! She could be home by Christmas, which is wonderful news
"The pink area that you see is actually her eyelids flipped inside out from the healing of her head. The scar tissue has pulled her skin up & down causing her lids to flip (kind of like when kids flip their lids to be gross). She will be having surgery to reduce the pressure on her skin, which will allow her eyes to close properly. She suffers mild discomfort and dry eye but receives lubricating eye drops daily. She does have a 3rd eye lid that allows her to shut her eyes."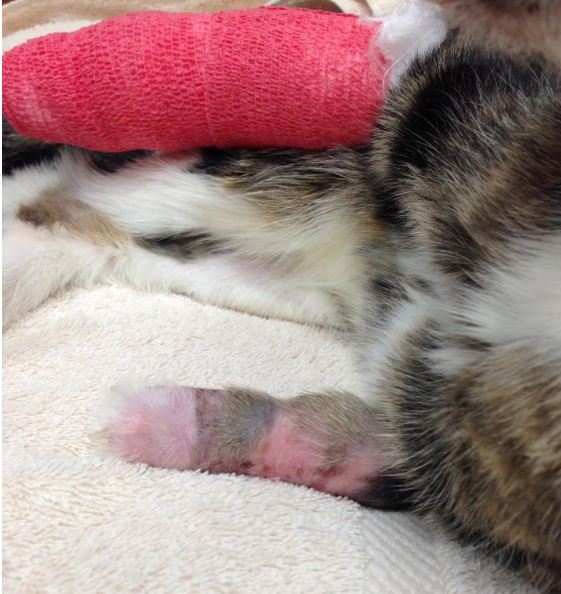 "Her paws sustained serious burns, but she is adapting to her new paws. She lost most of her claws, her paw pads and the webbing on her toes, which caused the toes to fuse together. We are told that she will develop calluses that will take the place of her pads in the event that her pads don't grow back. She is fortunate that she did not require any amputation. She already walks on her paws on soft surfaces. She will not have pads on her paws and may need little socks, but she has shown that she is a tough cookie that may defy All Odds!!"
"The hospital at University of Illinois is a teaching facility and she is queen of the ER. Many students have had the opportunity to learn from Dutchess not only about her physically but they have learned humility as well."
Playtime. December 2:
Two fundraisers for the cost of Dutchess' care have been set up, met their goals, and were closed. A new ChipIn has been started to build a fund that can be used for Dutchess' long term medical needs. Even after she is healed enough to go home and live the life of a happy house cat, and she's had surgery to repair her eyelids, Dutchess will require long term care for the effects of her burns.
Any monies over and above the cost of Dutchess' care will be turned over to a special emergency care fund at the U of I to help other animals. The emergency fund contributed to Dutchess' care, and she and her guardians want to pay it forward.
Toni writes:
"We are very happy that we have all of her medical bills, including surgeries, covered financially thanks to the hundreds of people that donated to the U of I in her name. We are still a bit concerned about her aftercare and the expenses that may be incurred once she is no longer at the U of I.
"We have a small ChipIn set up now to help cover her future expenses because she will always have special needs. We are going to set up an Amazon Wish List with beds and toys that will make her happy & comfortable. She's been through a lot in her little life & we want her to be treated like a princess for the rest of her long life."
We include the ChipIn widget below for any who wish to donate. If the ChipIn widget does not work, use the link to the ChipIn page here: ChipIn For Dutchess' U of I Care.
To follow Dutchess' progress, please visit and "Like" the The Dutchess Burn Fund Facebook page.