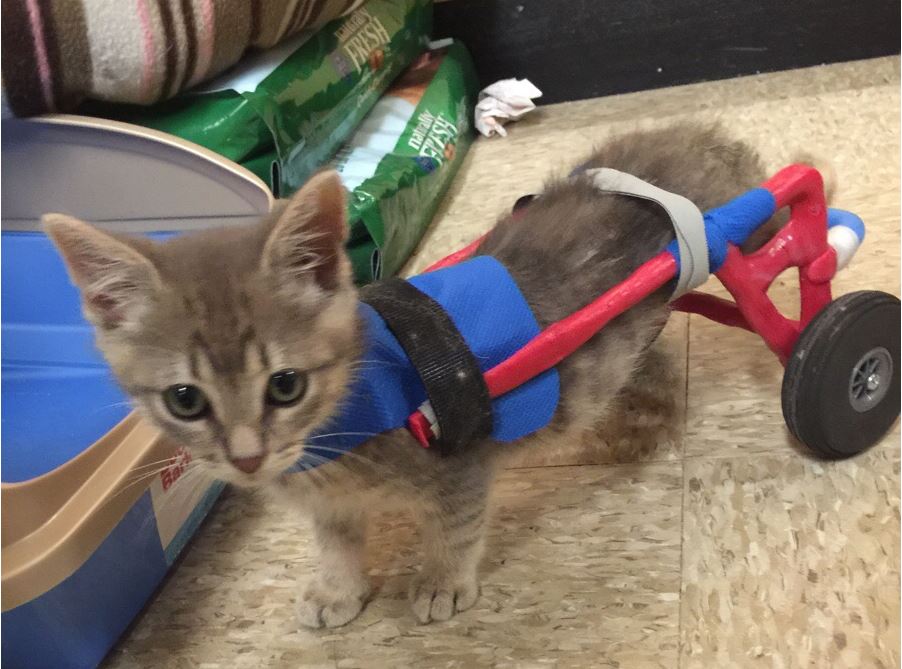 Reddit user and rescue group volunteer lauradiamandis posted this pic of special needs kitten Clark Kent online Monday and told his story through her interaction with commenters. The photo has so far received well over a million views.
She writes:
Clark is a paraplegic kitten who was taken in by TAAG, a group I volunteer with. We aren't sure but we think he was injured by a dog as a tiny baby. He was taken in at four weeks old and cannot use his back legs. To prevent spinal damage, his awesome foster mom made him his first chair and has been making them ever since. He is now in his fourth cart. Clark has a very good bill of health other than his legs, and will likely live a happy life in a cart. He will likely need a surgery later on but for now he is scooting all over town fast as he can playing like all kittens!
He doesn't think he has any limitations at all and never lets his mobility issues stop him. The only thing he can't do is climb but he still tries! To us he truly is Superkitty. We have recently lost another special needs kitten and I am really pulling for Clark to have a wonderful life in his memory.

If anyone is interested or would like to help us care for animals like Clark, please go to taagwags.org or Facebook.com/taagwags to follow the rescue. We usually take in several special needs kitties each year and the cost of their care can be high. Clark will probably need both back legs amputated when he is grown and we will need all the help we can get! Also please follow us if you like cute animal photos, we've always got em!
He is so precious. Very playful and sweet.
He normally has Superman emblems on his chair but they haven't been put on this new chair yet. He's going to be in our Petsmart's Halloween parade of pets and he is going to wear a cape so he can really feel like superman!
He gets a new chair every few weeks and it's adjusted for his needs and this one is putting more weight on the shoulders to get him to use his core muscles more. He's gonna have to stop pooching his little beer belly out and work a wee bit harder so his muscles stay healthy.
He often has a towel placed under him and he goes on it. He can't really use a litter box. He can't get into it and would get poop all over his wheels. His foster mom is thinking of attaching a little removable tray to his cart with a piece of puppy pad in it so he can go more easily. He can't always control his peeing but is good about pooping. He tries his best!
His foster mom keeps making bigger carts for him as he grows and he gets around well. His big issues with maintenance are pottying (he obv can't use a litter box and so has to be cleaned a lot) and infections in his legs and muscle troubles. He will likely have his back legs amputated once he's older. His chair gets adjusted to help him use his muscles so they don't atrophy. His prognosis is great other than all that and he's in good health, just will be a two legged kitty one day!
It doesn't break my heart because I know it hasn't broken his. He's got all the heart and all the love of life of any other kitten and he can play with the best of them.
We try to always stay positive and it's hard sometimes. We lose special needs cats more often than non specials and have recently had two special kittens pass away which makes all of us who knew them sad. It is so hard to lose one and it's even hard to see one you've come to love get adopted…sometimes you're crying as they go home and there are ones I still miss who are now in great homes! Clark is doing well though and I think he will make it barring any unforeseen kryptonite incidents.
Dame Daphne Sheldrick, who is a carer for orphaned elephants, said it best…she was asked how she can keep going and keep on loving and caring for animals when loss is such a part of it and she said you just keep going because there are always more that need help. Just snuggle the ones you have extra in memory of those who have gone over that bridge too early is what I do.
You can read the entire discussion at Reddit HERE and give lauradiamandis' post a well deserved upvote.
TAAG is located in Brevard, NC.
Video from August 9, Clark has a new friend, Petri, to play with:
The original photo at Imgur: