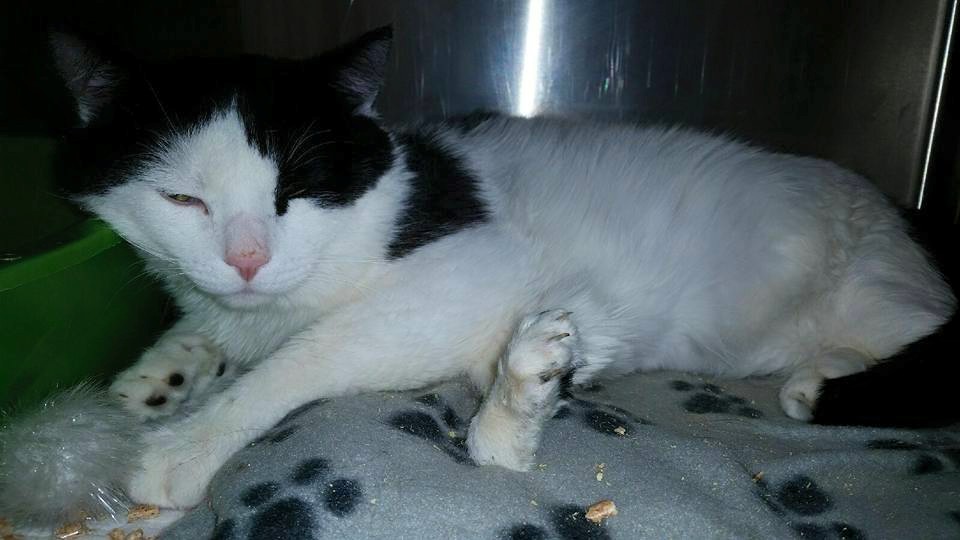 .
A cat surviving on the street with a bad hip and two extra legs is getting the care he needs to live normally and find a home where he can enjoy an easier life.
Pauly's two dangling extra legs developed in utero when a conjoined twin did not successfully grow. After being rescued from the streets, he came into the care of Little Cats Lost, an Edmonton, Alberta TNR Society that also works in rescue and adoption.
His rescuers thought Pauly was between 2 and 3 years old, but his vets at Oxford Animal Hospital say he is more likely about 7.
LCL tells Pauly's story in his own voice, writing: "My name is Pauly and I have six legs! I have been living on the streets of Edmonton. When I was in utero I must have had a twin that was conjoined with me. All that grew of my brother/sister is his/her two back legs that are now attached to my sternum and a small extra kidney.
"Surprisingly, I survived despite my challenges. Thanks to Deb and her sister who saw me and began to look after me in their yard. I have spent time in care with Little Cats Lost so I could learn to trust in order to get ready for post surgical care.
"I have done really well and now I am in the care of LCL's veterinary team at Oxford Animal Hospital where my surgery to remove my extra two legs and fix my bad hip will be performed so I can start a new chapter in my life."
Little Cats Lost started a Pauly's Journey YouCaring fundraising page to accept donations for surgery on Pauly's hip and to have the extra legs removed. The veterinary hospital is performing the surgeries at reduced cost.
An update posted today via Pauly's Journey at Facebook reported that the fundraising goal is nearly met.
The update reads: "Thank you to everyone who has, and is supporting Pauly on his journey through his surgeries and then onto finding his forever home. We are almost at our goal of $2000 and amazingly in such a short time.
"The outpouring of support for this little boy is heartwarming. Little Cats Lost would like people to know that any funds over Pauly's needs will be used for a Spay/Neuter Day at Oxford Animal Hospital for feral cats and cats from financially challenged homes. LCL is committed to spaying and neutering of community cats to prevent the birth of kittens on our streets."
Pauly will be looking for his forever home after he has had is surgeries and has completed his recovery.
You can follow Pauly's Journey  at Facebook for future updates.