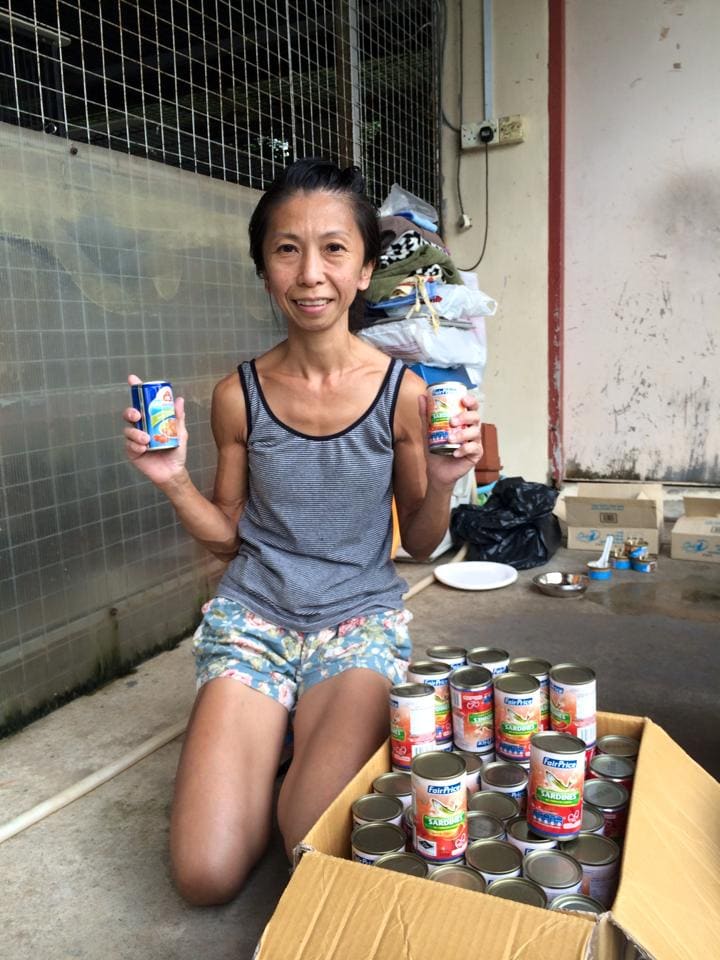 She said, in an article on AsiaOne.com, that her late mother was heartbroken when she saw how she was living.  This may have been many years ago, but it took time for her family to understand what she was doing.
Lily Low lives in Tampines, Singapore.  Not considering herself to be a "cat person," she got her first rescue seventeen years ago when living with her brother.  One became two.  Two became eighty. She had been with an advertising firm as a personal assistant, able to buy and do what she wanted, but she was now pawning her personal things to cover the care of the cats. Eventually, there were complaints and she had to move to the basement of a shop, living off meager funds, many provided by family and people who were becoming aware of her calling.  Her next move found her at a location where there are other shelters and transitioning to working full-time on rescue efforts.
She has gone without food for days to make sure the cats are feed and spends each morning cleaning and caring for them.  Although initially family relations were strained, she now received a small allowance and influenced them sufficiently that one of her other sisters is now doing similar rescue work in Malaysia.
Low's work has received attention and people within the animal rescue world are well aware of her presence and impact on the community.  She rarely turns away a request for rescue as her single priority is the welfare of the cats.  She not only takes in kittens and works for find them forever homes, she will take in many older cats whom many are difficult to house.
A generous spirit, Low continues in her one-woman mission on behalf of the cats of Singapore, still allowing herself a single meal a day, and getting by with the help and support of her family, friends, animal lovers and those who learn about her private cat shelter  and good work via social media.
About Author