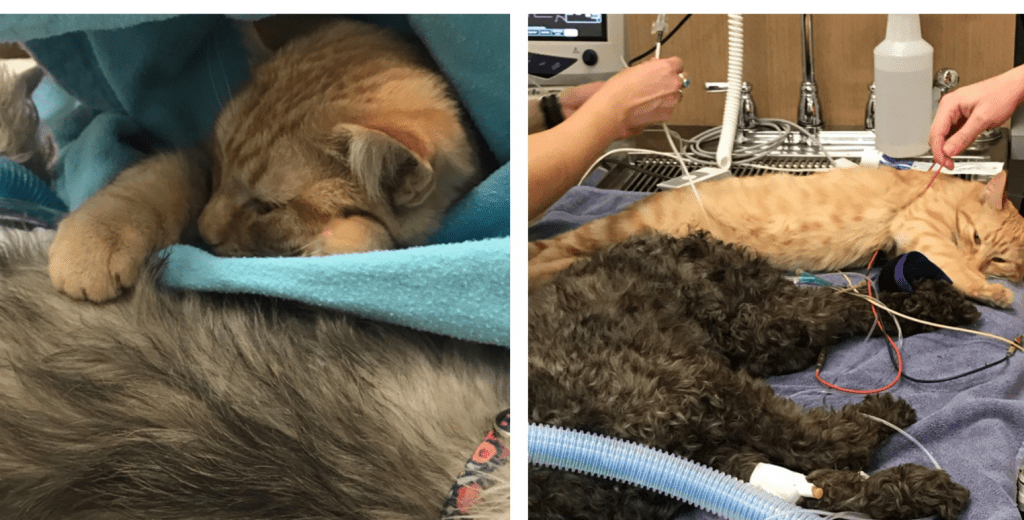 Ron was just a kitten when he was rescued from a feral cat colony. But he quickly displayed his natural talent as a therapy cat at the Northfield Veterinary Hospital in Denver where he grew up.
He comforted patients, both canine and feline, and made friends with the staff and clients, according to a report by Channel 9 NBC News. He was recently adopted, according to PEOPLE, who shared the hospital's amazing stories about Ron's career as a nurse cat before he found a furever home of his own.
"We have taken on many stray kitties throughout the years, and he is definitely an exceptional cat," Jen Weston told PEOPLE. Weston is co-owner of Northfield Veterinary Hospital, where the staff remembers how Ron came to their rescue by soothing one particularly savage patient–a 20-pound cat with a bad attitude.
The big cat was confined to a carrier. And it was so aggressive  the vet could not get close to it. Ron confidently hopped up on the carrier and made friends with the cat, who became so calm and happy that the vets were able to work on him.
He soon developed a talent for cuddling with animals under anesthesia for dental work, warming them and providing free grooming services. "Ron immediately showed extra interest in getting to know all the other pets that came in to our hospital," said Weston.
Weston published photos of Ron caring for patients on her Facebook page and people began asking for his services. "I'm not really sure how he developed such a good bedside manner," Weston told PEOPLE. "I have always loved male orange tabbies and I think they just have such great and outgoing personalities."
The hospital staff misses Ron, who is a one of kind kitty, but they are happy he's moved on and found a family who loves him.