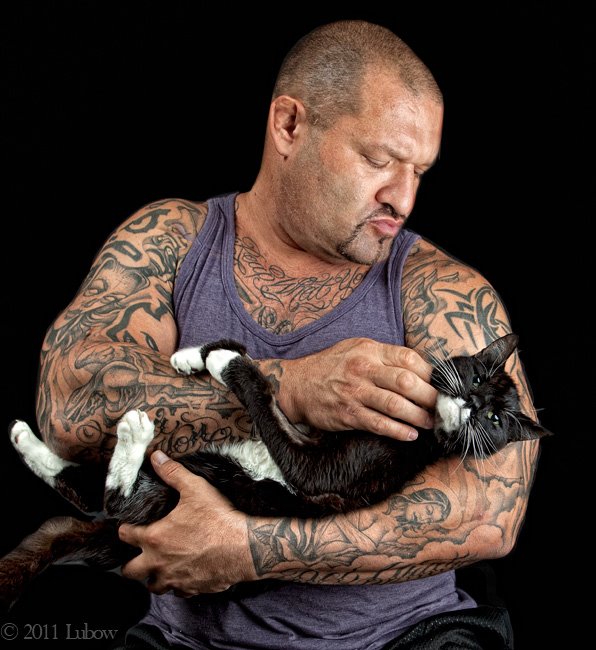 This is Baltimore resident and professional fighter John Rallo, a tough guy by any measure, with his cat Doobie. John is participating in an important campaign that makes it clear that abuse and cruelty to animals is not cool and does not make a guy tough; it makes him a punk.
The petdad to 4 kitties is one of three local athletes showing their love for their own cats and dogs in the Show Your Soft Side campaign, along with Baltimore ravens football player Jarret Johnson, and Adam Jones, baseball player for the Baltimore  Orioles.
The campaign's mission is explained thus:
"Show Your Soft Side" is a campaign developed to combat the alarming incidence of animal abuse in Baltimore. Many of the more horrific cases have been perpetrated by teens, thus leading the Mayor's Anti-Animal Abuse Advisory Commission to look for ways to change the mindset of young people who often view the maiming and torturing of defenseless dogs and cats as a sign of "toughness" or "manhood". The campaign puts forth a very different message – a message that subtly shows that "being a man" has many facets to it, including a "soft side" when it comes to animals. The goal is to reach kids early because research shows that kids who abuse animals soon graduate to even more violent crimes. Featuring acknowledged hard men of Baltimore with their pets, the campaign's posters, billboards and print ads make the point that only a punk would hurt a cat or dog.
The Mayor's Anti-Animal Abuse Task Force was created in July 2009 after a young pit-bull terrier – who was subsequently called Phoenix – was doused with gasoline and set on fire in broad daylight in West Baltimore. On November 3, 2010, Mayor Stephanie Rawlings-Blake signed the Anti-Animal Abuse Commission into law with the goal of helping the city prevent and prosecute animal cruelty, including dog fighting.
Sadly, 2011 has been another very bad year for animals in and around Baltimore. Several cats were intentionally burned this year, and the violence has also been directed toward dogs and other animals. You can see what Baltimore is doing, in a very public way, to confront and stop violent and cruel attacks on animals by visiting Show Your Soft Side on Facebook or the Mayor's Anti-Animal abuse Advisory Commission web page.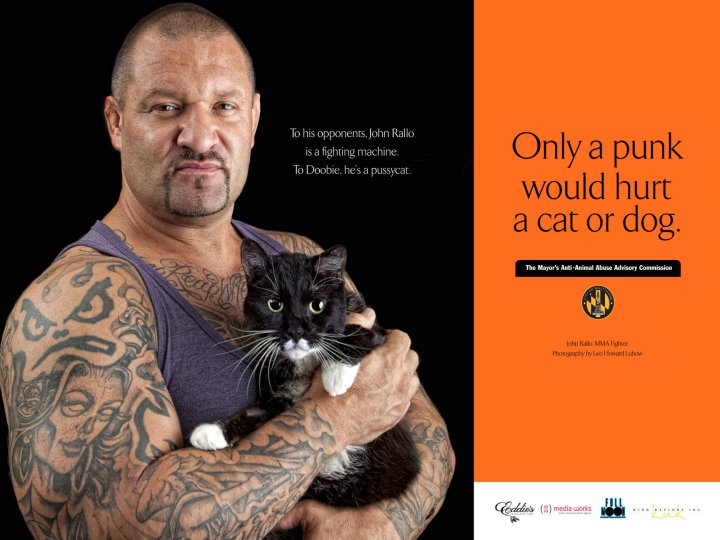 John's "Even Tough Guys Have A Soft Side" Message
Attendees can meet John Rallo in person at BARCStoberfest – Saturday, October 22 at the Pagoda in Patterson Park, Baltimore. This shows the tenderhearted tough guy's commitment to the ongoing campaign. The event is a Strut Your Mutt walk fundraiser for  BARCS (Baltimore Animal Rescue and Care Shelter) .
John and his fellow Even Tough Guys Have a Soft Side participants have made other appearances in support of this effort.
A billboard drives home the message
The great photos for the campaign are by Leo Howard Lubow.
About Author