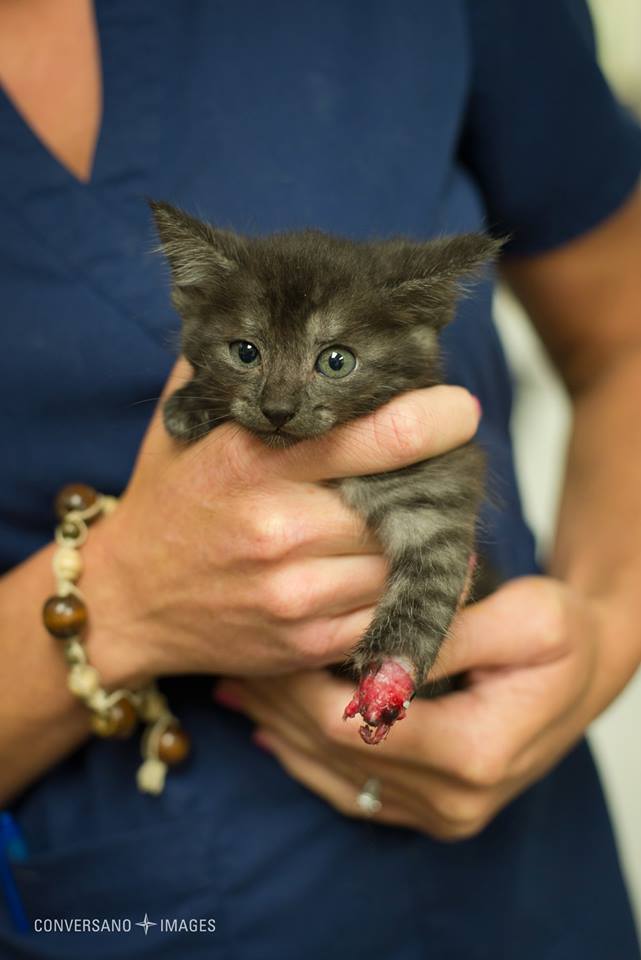 .
Ed Note: The video report on Peggy's story begins on autostart. You can pause the video until you are ready to view/listen.
Peggy is a tiny kitten who is getting help for a damaged paw that could have ended her life had she not been rescued in time. The local community pitched in and raised all the money needed for Peggy's care in just one day.
Peggy came to Clay Humane's free spay/neuter clinic in Orange Park, Florida with a group of strays and was immediately given help for a raw and partially missing front paw. Vet staff treated the wound to inhibit infection and planned for a partial leg amputation surgery.
Local media outlets that covered the story on Monday, May 5 passed along the Clay County Humane Society's call for donations to help with Peggy's medical care, and the goal amount was quickly met. Peggy's caregivers figured they'd need between $1,000 – $1,200 for her surgery and care. At least $1,200 was received by Tuesday morning, between walk-ins at the clinic and a donation page online, and donations continued after the goal was met.
"It is lucky the tiny kitten made her way to our low-cost veterinary clinic as quickly as she did," said Dr. Christian Broadhurst, Clay Humane senior staff veterinarian. "The spread of infection in the open wound would have certainly cost little Peggy her life."
Peggy's vets think she is 4 to 5 weeks old. There has been plenty of interest in adopting Peggy, and she will be made available when she is old enough and healed.
Her vets hoped to perform Peggy's surgery today. They have no idea how Peggy was injured, and there has been no suggestion of abuse as the cause.
Any monies raised over the needed amount for Peggy will remain available in Peggy's Fund to be used in the future to help other animals in need of medical care.
 You can see Peggy (wearing her protective cast) and learn more about the story in the video below:
.
.

.

.
.
.
About Author