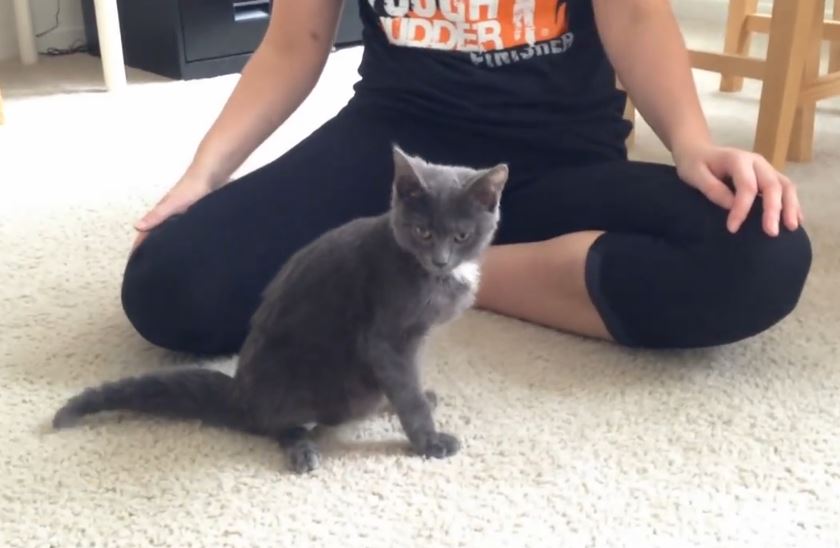 .
A 'swimmer kitten' named Speedo, born with splayed out legs that cause mobility issues, is getting rehabilitative physical therapy and tender loving care and has in just a short time made great progress toward gaining  control of his limbs.
Speedo was turned over to the Animal Welfare League of Arlington in Arlington, Virginia by a person who was unable to help him or deal with the challenges presented by his abnormalities. AWLA placed Speedo in foster care, where he is getting a combination of physical therapies, including acupuncture and massage therapy, as well as beneficial play.
We first shared Speedo's story on September 24, in Speedo the Swimmer Kitten Gets Rehab Help.
Speedo's foster caregiver describes him at Shelter Cats and Kittens  (and also at Shelter Cats and Kittens at Facebook) as an "adorable and energetic" kitten "who is growing in personality by the hour"
Speedo's foster Mum has uploaded two videos since the initial ones seen in our earlier post. The videos show the cleverly simple walkway that helps Speedo to walk correctly and demonstrate how his legs are wrapped to hold them properly in place using everyday medical tape.
She introduces the videos:
"This video is about Speedo, our loving and adorable foster kitten, and his 'Road through Rehabilitation.' Here he uses his "Alley," which is narrow enough to prevent him from splaying his legs outward, thus forcing him to use and strengthen the muscles he needs in order to be able to stand upright.
"In the second clip you can see his legs from behind…during the first week his legs would still go up and out when walking through his Alley even with the tape on, but here you can see how much he has improved so far and how he now has the ability to remain upright and really exercise those muscles.
"Speedo was born with Swimmer syndrome, a rare developmental deformity of newborn dogs and cats, whereby the hind limbs, and at times the front limbs as well, are splayed laterally resulting in an inability or difficulty to stand or walk. Forward movement in these animals is typically accomplished by lateral pedaling motions, making the dog or cat appear as if he or she is "swimming."
"Part of the rehabilitation process is to tape the legs together in order to encourage a normal range of motion. By doing so, Speedo is able to walk upright rather than walking with his legs splayed outwards. Not only does this encourage him to walk upright, but it helps strengthen and tone the muscles necessary for him to walk upright that are small and weak as they do not contract and get exercised when he walks with his legs splayed outwards.
"This particular video is merely an instructional video of how to make the leg support using regular medical tape."

"Speedo's Alley" – Kitten Speedo's Road through Rehabilitation (Swimmer Syndrome):

Swimmers Syndrome Kitten – How To Make Tape Leg Support
.
.
About Author