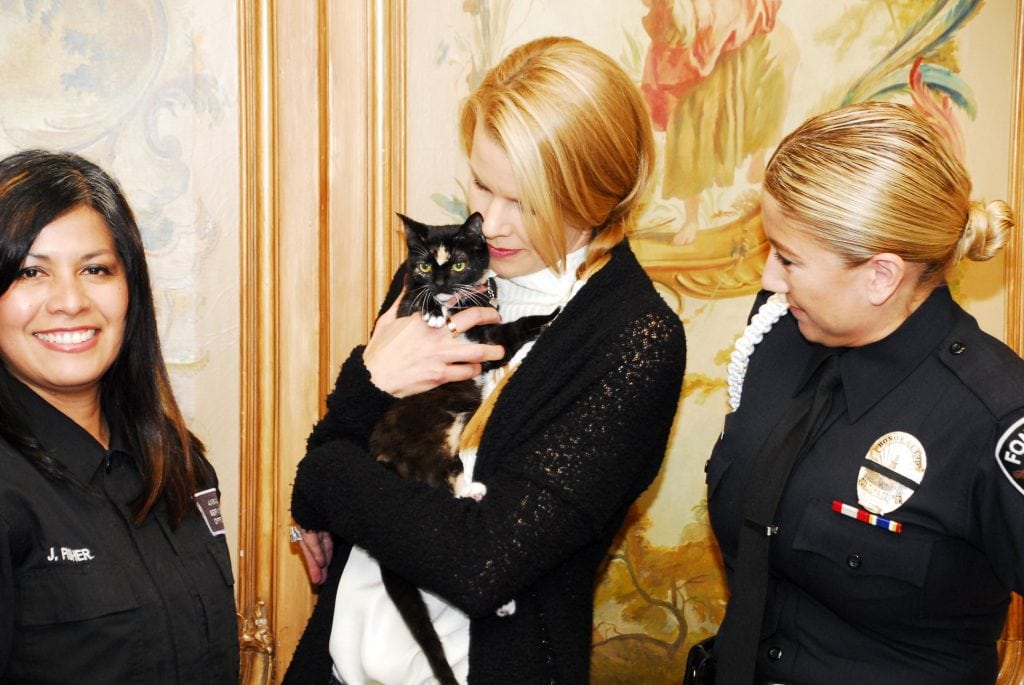 The Fontana Police Department posted the following amazing announcement on their Facebook page about Olive the Kitten, who was placed in a freezer, squeezed, then tossed off a second-story balcony, and his fosterer and animal advocate, Beth Stern:
Abused Kitten is Starting a New Life with the Stern Family
Fontana, Calif.- Olive, the 3-month-old kitten placed in a freezer, squeezed and then thrown off a second story balcony last month, is getting what every kitten needs: a family. Beth Stern (TV personality, and wife to TV and radio personality Howard Stern) flew from New York to California to rescue the Tortie on Saturday, March 10, 2018.
Stern came across Olive's story in People Magazine's online article, and contacted the City of Fontana's Animal Services to inquire about fostering Olive. During her recent visit to California, Beth met Mayor Acquanetta Warren, Animal Services' Officer Jenny Fisher and Police Officers Jennie Venzor and Sgt.Kevin Goltara to thank them for their efforts on Olive's behalf.

City of Fontana Mayor Warren expressed her thanks to Beth and Howard Stern, as well as North Shore League America, for their dedication to rescuing and fostering animals in need.
When I read about Olive I felt physically ill and knew I had to do something to help," said Beth Stern. "I am so very grateful to everyone from the City of Fontana who saved Olive's life and was thrilled to meet them when they brought her to me to bring home and foster."

Beth is a volunteer, foster parent and national spokesperson for North Shore Animal League America, the world's largest no-kill animal rescue and adoption organization. As an animal rights activist, she dedicates her life to fostering kittens and cats, particularly those with special needs, and helping them find their forever homes.

On February 2, 2018, Fontana Police Department responded to a complaint of a man assaulting a kitten. The man, identified as 34-year-old Lucio Lopez fled the scene before officers arrived. He was later found driving in the area of Oleander and San Bernardino. Lopez was upset that the kitten entered the apartment and so he placed the kitten in the freezer. Witnesses reported that he later took the kitten out of the freezer and began squeezing her body before throwing her off the second story balcony. Olive suffered major injuries to her chest and a fractured leg.

For more information about Olive's adoption/rescue, please contact bethste[email protected]. You can follow Olive's road to recovery on Beth's Instagram, @bethostern.
Thank you, Beth, and all who are helping Olive, find a loving forever home, and for your tremendous advocacy for animals.
About Author