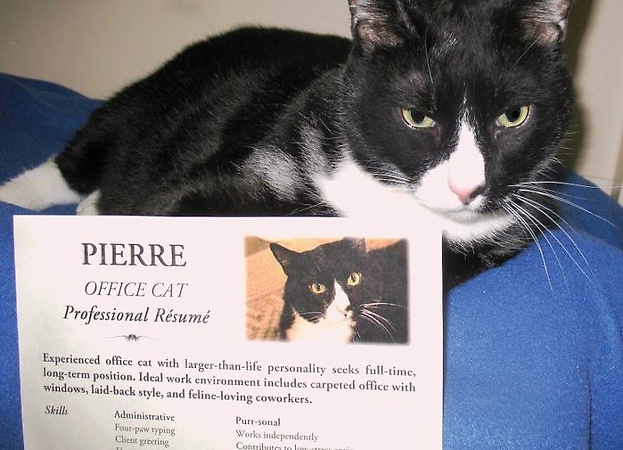 Pierre the Cat's office mates at ARF (Tony LaRussa's Animal Rescue Foundation) in Walnut Creek, California helped him draw up a resume and list his skills, positive qualities and requirements at his profile on the professional networking site LinkedIn last month. Pierre became an office cat over the course of his two years with the rescue, but last weekend it was finally time for him to move on.
The organization mounted a lively job search campaign for the sweet tuxedo cat at their Facebook page in September, and Pierre is described at LinkedIn like this:
Experienced office cat with larger-than-life personality seeks full-time, long-term position. Ideal work environment includes carpeted office or home office with windows, laid-back style, and feline-loving coworkers. (Pierre is also willing to overcome his workaholic tendencies for the right HOME environment!)
Purr-sonal Skills: Works independently, contributes to low-stress environment, always friendly (never catty!), dresses to impress in "tuxedo" attire.
Salary desired: Medical benefits, litter box, bed, baths, food, toys, head and cheek rubs. Employee exercise plan required. Generous nap package preferred!
Pierre Cat's Experience
Head Cat
Tony La Russa's Animal Rescue Foundation
Nonprofit; 51-200 employees; Veterinary industry
2011 – Present (1 year) Walnut Creek, CA`
You can view Peirre's Linkedin profile HERE.
Glowing recommendations from staff included statements like these:
"Pierre is a dependable and punctual guest. He often serves as a trainer to our new volunteers and staff, and is quite liked by all he meets. I would highly recommend Pierre for your available office cat position!" – Animal Care Manager, ARF
"We are excited for Pierre as he seeks to expand his possibilities! An intelligent and motivated Feline, he is good at working independently with minimal supervision. His merits include clear body language and impressive Rubber Wand skills. He is fluent in Cat Dancer as well!" – Intake & Behavior Specialist, ARF
Pierre came to ARF in 2010 weighing 40 pounds. Those who know him remark on his larger than life personality. While honing his office cat skills, Pierre trimmed down to a far more healthful 24 pounds. ARF said, "After an exercise plan, a special diet, a foster home, and his very own "job search,"  he's headed home. Pierre was adopted into a family last weekend and will retire from office life.
__
ARF made videos with Pierre during his time with them. You can see just what a big boy he was.
April 22, 2012: Pierre is a 7-year-old, male, Domestic Short Hair mix. He is a big boy and he has one huge, loving personality! This handsome fella loves to be groomed and petted.

.
Earlier still … Pierre in December 2010.

.
About Author