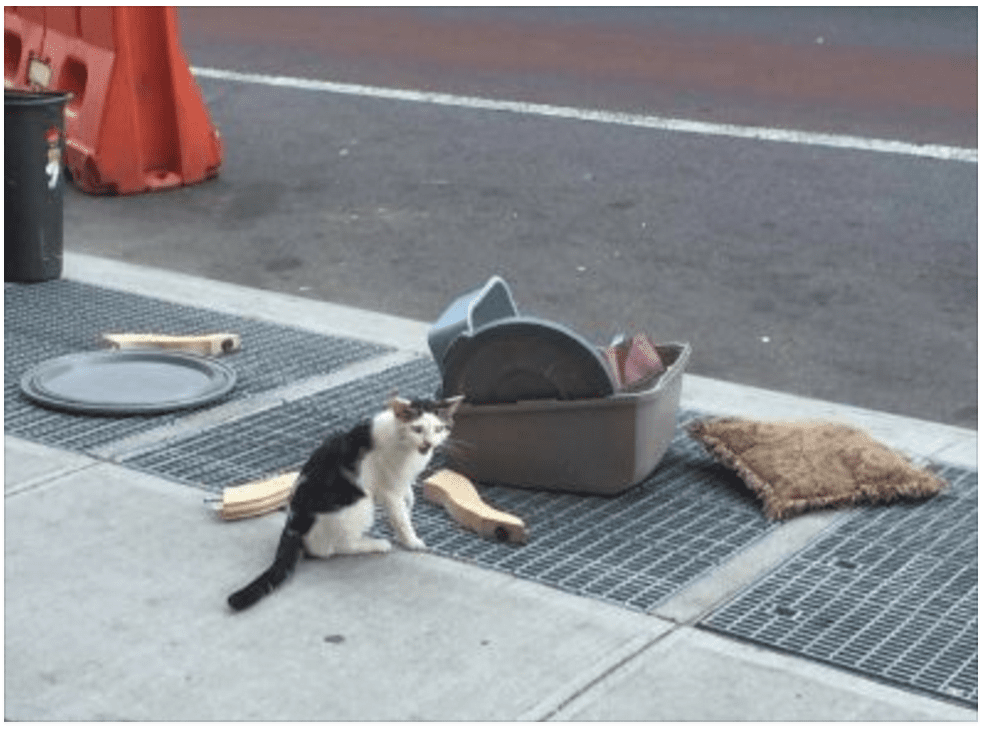 The photo was heart breaking: a forlorn,  frightened cat crying sitting curbside on a Brooklyn street. Next to him are a discarded pillow and litter box that were thrown out along with the abandoned kitty. "He reportedly sat there crying for two hours, before he was scared away by a street sweeper," according to the posting.  The photo was published last week on Facebook, and shared by several thousand people, setting off a chain reaction of outrage at the person responsible and sympathy for the cat. "I'm so angry I can't think straight," said one poster. "Makes me want to cry," said another. "Terrible what was done to this poor kitty."
The cat was abandoned on Nostrand Avenue between Lefferts and Sterling. And it wasn't long before the hunt was on. New York City animal angels sprang into action. Michael Dietrich of HOPE Staten Island Animal Rescue went to Brooklyn to look for the cat. And a small army of caring neighbors and members of Flatbush Area Team For Cats, known as FAT Cats looked high and low. But still no kitty. "We got reported sightings but were never able to act fast enough. Then this AM, the call came in from a local TNR advocate and cat rescuer in retirement, Karen Oh, [who] found him in her backyard." Everyone involved was thrilled.
"Here at Flatbush Area Team for Cats, we are ecstatic to give a happy update to last week's story of Nostrand, the cat abandoned on Nostrand Ave. We immediately rushed over to find, that yes indeed, it was him!"
"We immediately brought him to get vetted, and screened for a microchip. No microchip, but we are happy to say he is a healthy one-year-old male, FeLV/FIV negative, who was treated for fleas." Hundreds of worried and upset people who had seen the photo of Nostrand, including this writer for LifeWithCats, were incredibly relieved to hear he had been located and was in good hands. "Thank you! I could not rest," said one poster. Here's a photo of Nostrand finally getting the love and comfort he deserves.
FAT Cats shared the good news and is requesting donations. "Please help us with his vet bill, even a small amount is greatly appreciated. https://goo.gl/ZKwato.  "Thank you to everyone for your prayers, good thoughts, and efforts to find Nostrand. We will be contacting people that offered to foster/adopt him. If you are interested in him or any of our other adult cats please contact us at [email protected]."