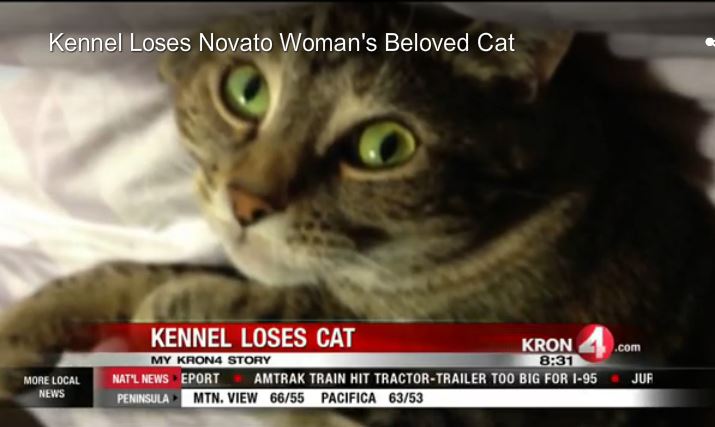 In a story that illustrates just how easily any cat can panic, escape and go missing – especially from unfamiliar surroundings – a Marin County, CA woman who boarded her beloved cat for two days during a move is now desperate after the cat got loose and disappeared.
Buffy Ford Stewart took Boo to Bridewell Hilltop Kennels in Novato, where the cat was supposed to safely remain for two days while Buffy moved house. The decision to board Boo was a responsible one, since the hubbub surrounding a move can be traumatic for cats, and it's one of the prime occasions when they panic and go missing. Unfortunately, Buffy's precautions did not keep the cat safe after all. Boo escaped from the kennel, leaving Buffy distraught over the cat who she has loved and cared for over the past 6 years.
"I got a call that Boo escaped," said Buffy, her voice filled with emotion. "All my friends worry about me, all I do is cry."
Anne Hadley, a manager at Bridewell Hilltop, said this is the first time in her eight years at the kennel that a pet has escaped.
"The negligence is just shocking to me," said Buffy. "The grief in me is huge."
It's been more than a week since Boo got out of the kennel. The person cleaning the kennels in the morning left the door to the building open, and Boo seized the opportunity to flee when the cleaner opened her cage to clean it. The cat leapt out of the kennel and ran out the door in a matter of seconds.
Staff from the kennel have since set up a trap baited with Boo's favorite treat, a stick of butter, in hopes of capturing the missing cat and returning her to her petmom.
"We feel absolutely terrible," Anne Hadley said. "This is a very unfortunate incident and we would like to help her get her cat back."
While the staffer's action in leaving the kennel's door open was negligent, it shows just how easily a quick-thinking cat can exploit a simple, small mistake or accident and go missing.
Hopefully, Boo will be recovered before long.
KRON Channel 4 covered the story, and spoke with Buffy Stewart: