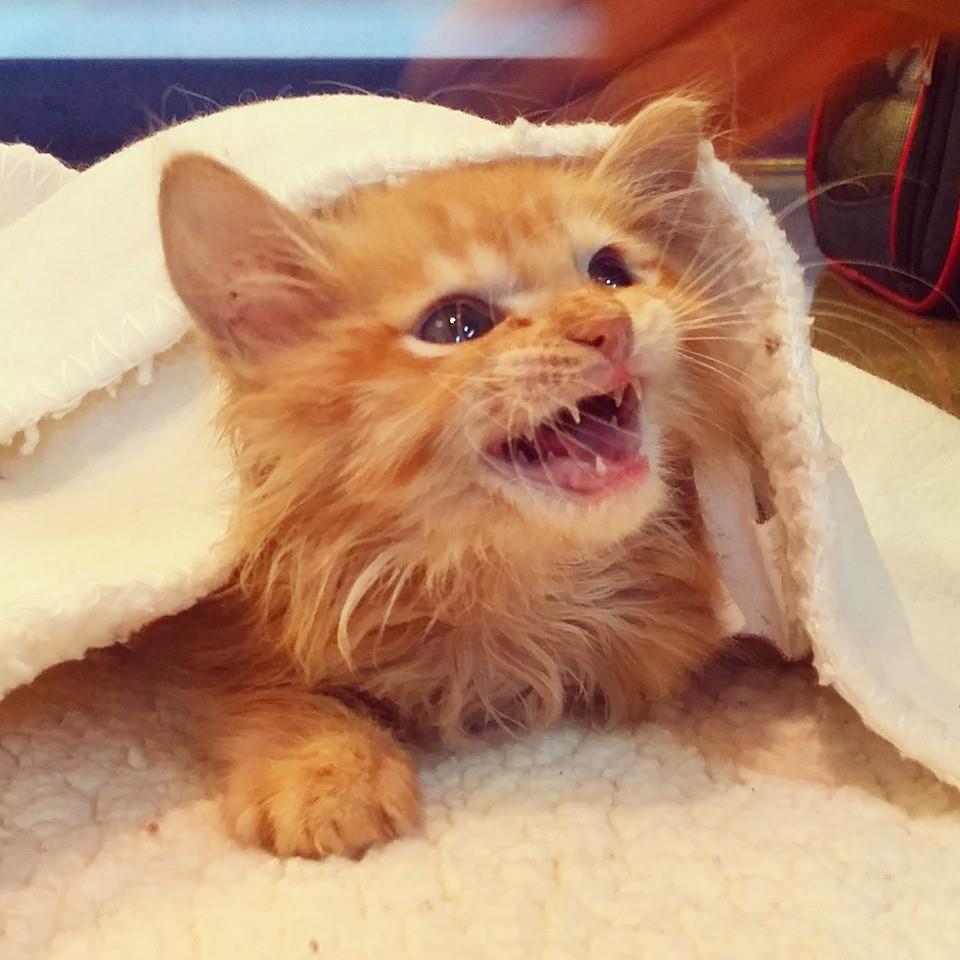 Muffin, the tiny kitten paralyzed after a botched microchip insertion at the Downey, California animal shelter, survived the risky surgery to remove the chip from his spine today.
Many who learned of Muffin's story, which we covered Monday in Kitten Paralyzed by Botched Microchip Insertion Will Get Surgery, had the little kitten on their minds today, waiting to learn if he would make it through.
Muffin was a perfectly normal, adorable, tiny stray separated from his mother at too young an age when he was picked up from the streets and brought to the Downey shelter earlier this month. Rescuer Loren Slama pulled Muffin on October 16 and was checking on another cat's spay surgery when a vet tech inserted Muffin's microchip, in accordance with shelter policy. Something seemed wrong immediately afterward, when the kitten's head slumped and he lost motor control.
The microchip had been inserted into his spine and Muffin had been paralyzed. It was crucial that the microchip be removed as soon as possible, to prevent further damage and to get it out before it became fixed in place and more difficult to dislodge.
Muffin's surgeon at City of Angels Veterinary Specialty Center was available  today, and the surgery was scheduled.  There was the risk that Muffin would not make it out alive, but there were no other good options for him, so the decision was made to go ahead.
Downey Animal Control declined to pay for the surgery, so animal lovers pitched in to raise the needed funds, contributing more than $5,000 through a YouCaring.com fundraising page.
Laurence Slama made the happy update later today at the YouCaring page that has served to keep everyone informed, saying: "OMG HE MADE IT! He survived surgery and the microchip is out! HALLELUJAH!!!!!!!!!"
Due to the considerable interest in little Muffin and his progress, his caregivers have started a Facebook page, Meet Muffin: Paralysed at barely 6 weeks old by Downey Gross negligence.
The great news that the chip is out and Muffin has survived the surgery and is doing well in recovery was also shared at the Facebook page.
So far, there has been no word on the reversal of Muffin's partial paralysis and whether he will be able to walk again soon, but an initial report on the day's events from his doctors is expected later this evening.
We wait, along with everyone else, for updates on this sweet and loving little rescue kitten's recovery.