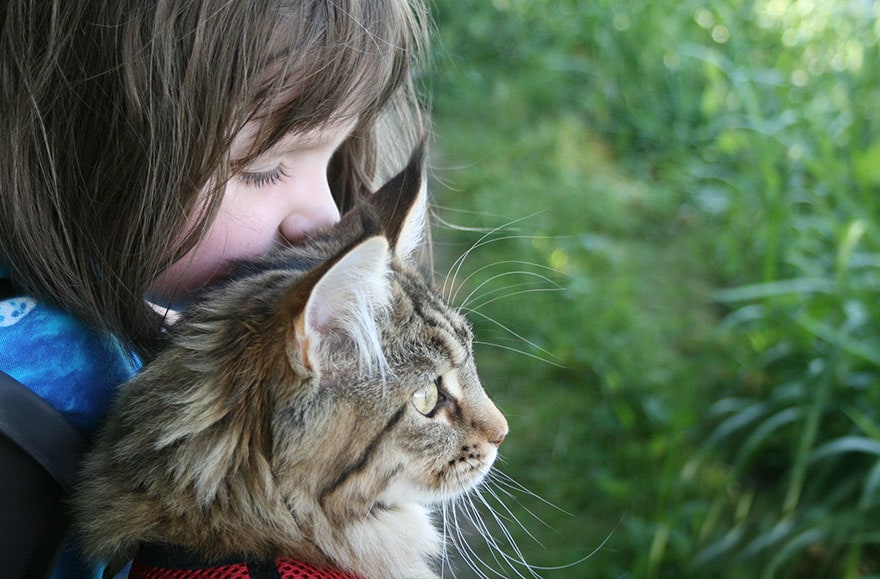 In a world where sometimes it can be hard to be who you are there are those who can be friends, love us unconditionally, and know that we are the people we are meant to be. Iris Grace is autistic and was living in a world that was silent.  Her first breakthrough came when she discovered a love for painting.  The second when Thule came into her life.
https://www.youtube.com/watch?v=kqCC4IywSxk
Here is a shout out to Thula and her love for Iris.  They play together, swim together, go boating together, even nap together, and through it all, Thula is there with a helping and loving paw.  This sweet Maine Coon has even become the perfect artist's assistance supporting Iris' inspired works.  Of note, one of Iris' pieces was purchased recently by the likes of Angelina Jolie.
Sometimes we don't allow ourselves to understand that some people see and live in the world differently.  Autism has a broad spectrum and while there are many who are high-functioning autistics actively engaged in the day-to-day of life, there are also those who, like Iris, have their own world opened when finding something that clearly speaks to them.  In Iris' case, it was the painting that opened up her communication, and it is Thule who loves her inside that very special place.
Learn more about this amazing duo at Bored Panda and in the beautiful book by her mother, Arabella Carter-Johnson, Iris Grace.  To learn more about autism, please visit Autism Speaks.
About Author