Everyone likes healthy snacks, including our pets and with watermelon coming into season, it seems as good a time as any to pull out the cute pictures of, you guessed it, cats and watermelons!
But, before we get too far along, it is important to know that while watermelon is a great treat for any pet, you do need to make sure that you remove the seeds so they are not ingested.  In fact, PetMD has a great article that includes the following list of both healthy snacks and those your should avoid, in the form of fruits and vegetables:
Yes:
Apples – without seeds or core (apple seeds contain chemical compounds that are poisonous to animals)
Blueberries
Strawberries
Watermelon – without seeds
Cantaloupe
Frozen bananas
Green beans
Carrots – raw or cooked
Sweet potato – cooked, cubed or mashed without butter or seasoning; regular potatoes are also good, but in limited amounts since they are high in sugar and can increase weight
Squash, zucchini
Lettuce
Spinach
Popcorn – unsalted and unbuttered
Catnip or cat grass
No:
Grapes and raisins – contain chemical compounds that are toxic to dogs
Garlic and onions – both have chemical properties that can be toxic, and even life threatening to dogs and cats
Tomatoes
Avocado
Mushrooms – particularly wild mushrooms
Fruits with pits, such as peaches, cherries, and plums – in some cases the pit can be toxic, or can simply present a choking hazard
Nuts – particularly macadamia nuts, which are toxic to pets
And now, on with the fun part!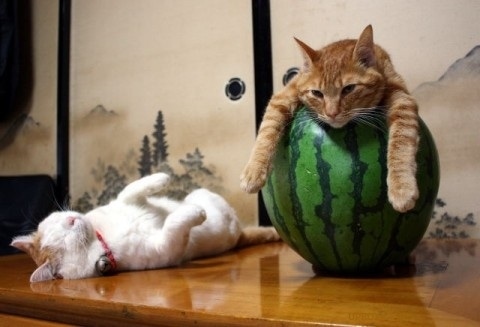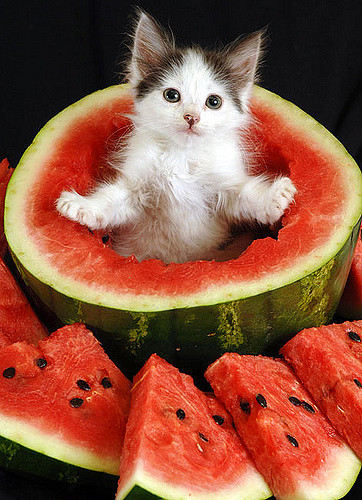 ………………………………………………………………………………………………………………………………………………………………………………………………………………………………………………………………………………………….
About Author