Beyond what lurks in the neighborhood, like cars, strays, and those who don't care for cats, is one consideration is often overlooked.  Nature itself. A very lucky kitten got much to close later in the form of a hawk and pine tree.
Fluffy on the dinner menu
A hawk spied the kitten and decided it would make for a tasty morsel. Nabbing Fluffy, it took off with great intent. However, due to the kitten being too heavy or struggling too much, the hawk released her. Fortunately for Fluffy, she landed in a pine tree.  Unfortunately, it was extremely high up and the kitten was stuck where she had fallen.
Up a tree for three days
At such a height, in particular for a young kitten, any cat would be challenged to make their way down.  And with the pine tree swaying, it further complicated matters.  Erie Valley Fire & Rescue posted on their Facebook page "Typically, cats will find their way down, but after three days it was time to intervene." And intervene, they did.
Working with a tree company, the rescue squad was able to extract the frightened kitten from her none-too-pleasant perch. "She was going to die up there and she was all alone," Ellen Albert, Fluffy's much-relieved owner told WJW/Fox8  adding, "I'm just truly amazed that she made it that long and these guys are here to help."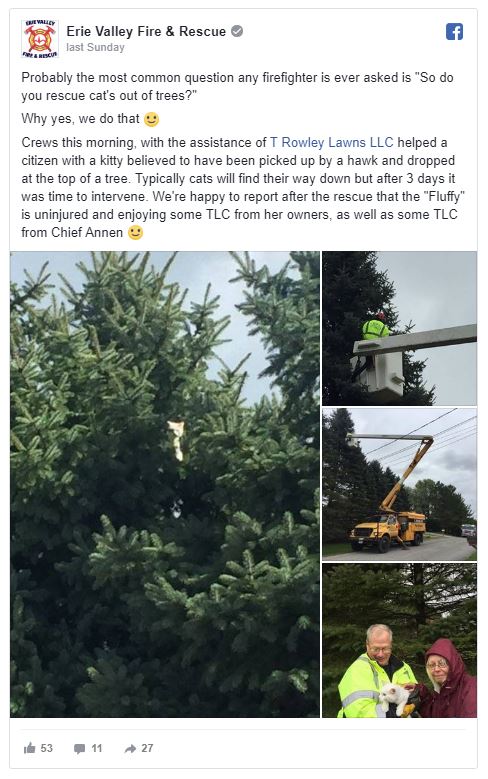 Hawks in waiting
Fire Chief Rick said multiple hawks were seen waiting in the vicinity, clearly with their focus on Fluffy.  Seems she was tucked into the branches far enough down she could not be reached.  Though not comfortable for the kitten, it did allow for her to be successfully rescued and not made part of a meal.
"We're happy to report after the rescue that the Fluffy is uninjured and enjoying some TLC from her owners," said a fire department post.
A good reminder to keep kitty inside
This is a good reason to consider keeping your cat or kitten inside.  While we may think we know our surroundings, there may be situations of which we are not aware. Regardless of personal beliefs, kitty inside or out, remember to have pets microchipped.  With our furry family members, it is always best to think safety first.