A tiny kitten is the latest feline in the news to survive being snatched and carried aloft by a hawk. His injuries were treated and he will be made available for adoption once he has healed and is big enough.
The sweet looking little black and white kitten now called Hawk, shown above,  is lucky to have survived his ordeal at the Nanaimo BC dump; though he was snatched and carried off, the bird dropped him from a fairly low distance to the ground. His pregnant mama cat was either dumped or otherwise ended up at the landfill and had her babies there.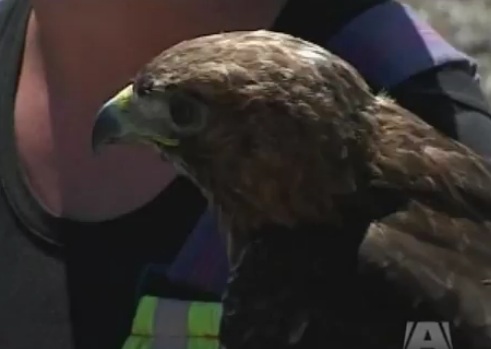 The red tailed hawk that grabbed, then dropped the kitten.
The dump employs the services of PK Bird Control Services, which uses trained hawks and falcons to scare away seagulls. A PK staffer discovered Hawk the kitten and brought him to Island Veterinary Hospital for emergency care last Monday. The hawk, the bird of prey, also got the kitten's mama and two siblings. Mama cat was taken to animal control, and the other two kittens did not survive. A trap was set for the remaining kitten.
Since the hawks are working the dump and the cats were there through no fault of their own, blame is being placed on the person presumed to have left their cat at the scene to fend for herself.
Despite his frightening brush with danger, things are looking good for Hawk the kitten. His has received medical care, is being well taken care of at the Nanaimo Branch of the BC SPCA, and will be offered for adoption when he is ready.
Here's news video on the story.