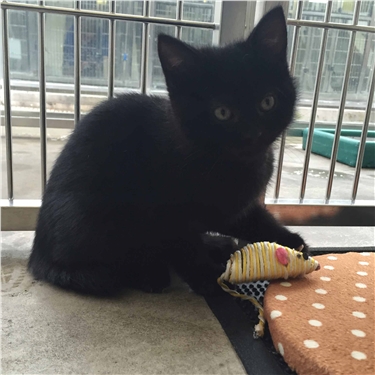 ………………………………………………………………………………………………………………………………………………………………………………………………………………………………………………………………………………………….
When the litter, only a few days old, was taken in at St Helen's Adoption Centre in Merseyside, UK, all of the kittens were examined and preliminarily sexed as per protocol.  As the kittens became old enough to spay and neuter, a rare discovery was found.  Bellini, who had been previously thought to be male, possessed both male and female genitalia.
According to Cats Protection's St Helen's Adoption Centre Manager Sonia Scowcroft, "When Bellini was checked over on arrival we had no question he was a boy. It was only when he went for neutering that closer inspection by the vet found he had mixed reproductive organs, making Bellini a hermaphrodite.
"I was pretty stunned, it's so unusual. I have seen over 3,000 cats during my time at Cats Protection and only seen one other hermaphrodite cat. I certainly never thought I'd see two.
"Although it would have been impossible for Bellini to reproduce, he will still benefit from having been neutered. Neutering has countless benefits aside from controlling kittens being born – neutered cats fight less, stay closer to home and are less likely to contract serious illnesses."
Hermaphrodite felines are usually tortoiseshell, so Bellini being all black makes him all the more unique.  Sarah Elliott, Cats Protection's Central Veterinary Officer, explained that a biological process called mosaicism, the unusual division of a kitten's cells while in embryo, may be responsible for the dual genitalia.
The wonderful news for Bellini is he, and littermate sister, Daquiri, have found a forever home together.  As to whether Bellini will be identified as a "him" or "her," Scrowcroft defers to the owner, concluding, "Either way, [Bellini] is an absolute cutie pie and will make a really lovely pet."
About Author