We're giving away a super fun Tipsy Nip Tickle Pickle catnip toy. The company sent us a goody box to try with our cats and the Tickle Pickle is a big hit with all of them.
First off, they had me at product logo, as the cliche goes, so I was hooked long before our goody box of catnip products arrived a few weeks ago.
We received two Tickle Pickles to test on our household's three cats, two Tipsy Nip Balls and a jar of Tipsy Nip Organic Catnip flakes. The packaging is cool, the products well made and designed, and the catnip both reassuringly organic and potent. The catnip is irresistibly attractive to the cats, and leaves them with a nice, friendly, good natured buzz afterward for hours.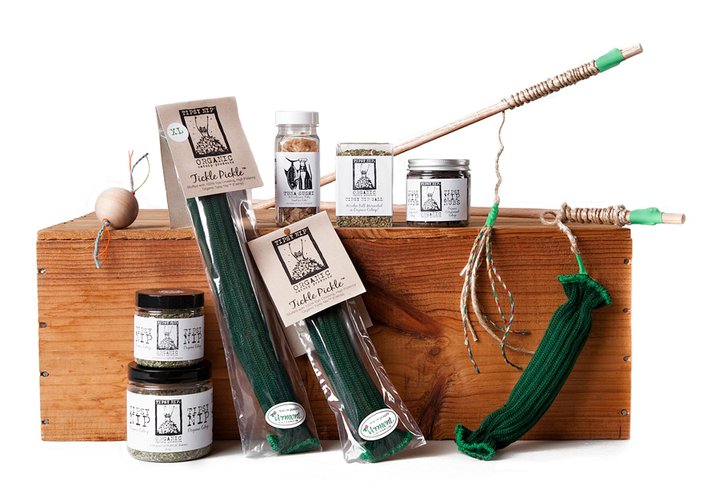 The company's products
Tipsy Nip operates out of Burlington VT, a beautiful, small city on Lake Champlain, in a state known for growing good quality herbs of other sorts, so we were not surprised to find that the local catnip used by Tipsy Nip is excellent. The cats may lay around or nap after a session but they wake up in excellent spirits with a nice energy level.
Covered in flakes, taking a break from playing with the catnip infused wooden Tipsy Nip Ball
The company's catnip has actually been beneficial for one of our cats, who has been rather dull and lazy for the last few months, since losing his outdoor privileges. Tuppy has been in much better spirits and is generally more friendly and playful since having his Tickle Pickle.  After a play session, he'll keep it nearby, cuddle it, or take a nap with it. He takes it from the table and places it in a certain spot on the couch, and it's become a special object for him.
If Tuppy's had an energetic play session with the pickle he'll retain a good buzz for hours, being extra friendly, playful and generally happy.
The other cats, Nobby and Lucy, love the Tickle Pickle, too. After three weeks, the toys have not lost their play value, and despite heavy usage, with plenty of claws, chewing, and bunny kicks, the pickles are still in great shape. The pickle's shape and sturdy knitted cotton material make it very appealing to the cats; it's perfect for clutching and kicking, and rubbing on heads. We have the 6″ pickles, but the giveway prize winner will get the 11″ version.
The Tipsy Nip Ball comes in a clear plastic box filled with catnip flakes. Each of the cats, when presented with the box rubbed against it, tipped it, then rolled around in the flakes before playing with the wooden ball.
We have not seen the Flying Tickle Pickle wand toy, but expect that it would be a hit with our cats, too.
I found when poking around on the Tipsy Nip website that the company has very cool looking tees and hoodies, which, like their other products are very reasonably priced.
Given Tipsy Nip's all around excellence in quality of catnip, product design and execution, and packaging, we give our highest recommendation and can easily say their items would make great gifts as well as personal purchases.
Discount:
While only one reader will win the Tickle Pickle, all Life With Cats readers can receive 20% off orders of Tipsy Nip Organic Catnip Products between now and September 30. To receive the 20% discount, please enter this discount code: LWC2011, and remember to use all caps.
The 11″ Tickle Pickle giveaway item
How to Enter:

Our giveaway winner will receive a high quality 11″  knitted Tickle Pickle from Tipsy Nip Organic Catnip Products, of Burlington VT, stuffed 100% with catnip, no poly fillers. To enter, first "Like" TipsyNip Organic Catnip Products' Facebook Page. Then CLICK HERE or use the Life With Cats CONTACT/PR button here or at the top of this page to send us a message. Please put ENTER ME in the subject line of your message.  The winner will be selected at random, and will be notified by email. We will accept entries through Wednesday, September 14.
This giveaway contest is open to readers worldwide.
The company describes itself as follows, and we wholeheartedly confirm it:
"What are Tipsy Nip™ Organic Catnip Products? Only the BEST cat toys and treats…EVER!
Made in Vermont, all of our products are made from only the best quality materials and ingredients. Our mission is to create products that make cats insanely happy. It's that simple.
What sets Tipsy Nip™ Organic Catnip Products apart from the others? Our commitment to safe, quality toys and treats. Everything we use is made, grown, or manufactured in the USA. Our catnip is CERTIFIED ORGANIC cut and sifted leaf & flower, and has been referred to as some of the best catnip available in the USA."
Tipsy Nip Organic Catnip Products website
TipsyNip Organic Catnip Products on Facebook
The company also sells Pupcat Bakery Dog Treats
Thanks to Tipsy Nip for providing the prize and the Life With cats reader discount.
Company photos, by Mountain dog Photography.
__________
Here are our household's cats the day we introduced the toys:
Tuppy and the Tickle Pickle. This is his third session with it that day, and he's still raring to go. The sound that startles him is from the Tipsy Nip ball bouncing off the raised corners of the play table, as Nobby plays with the ball.
Lucy and the pickle. Lucy is a mature kitty who's an avid bird and chipmunk watcher, and she loves to chase leaves on a windy day. She rarely shows much interest in cat toys, but makes an exception here for the pickle. She also loved rolling around in the flakes when she was given one of the Tipsy Nip Ball boxes and managed to open it and release the contents.
Nobby knocked the nip out of the little Tipsy Nip Ball box twice, on the floor and on the play table. By the end of this little video she has had her fun with the nip and the ball and has decided to take a little rest, and Tuppy thinks he's getting away with something when he grabs the Tickle Pickle and takes off.
About Author