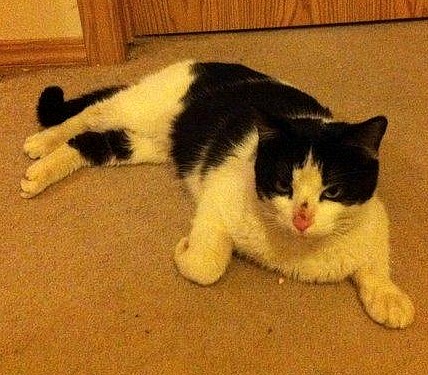 … and, hopefully, this time the news will prove to be true.
Reports today say that George the cat is found, and he saved himself. The George Is Lost at Edmonton Airport Facebook page, run by advocates, supporters and searchers, reported today that the cat who went missing at Edmonton airport from an Air Canada flight three months ago is alive and well and currently staying with a family living near the airport. George showed up at the Wilde family home, in Leduc, just days ago.
For those not familiar with the story:
Vanessa Summerfield planned to send her cat George from Fort McMurray AB back east to live with her family in Ontario until she could find an affordable pet-friendly place to live in Fort McMurray. George went missing from the Air Canada plane's cargo hold during a stopover at Edmonton International Airport on September 23. We covered this initial phase of  the sad ordeal in our story from October 2, Another Cat Lost at an Airport: George Goes Missing From Air Canada Flight. George's carrier was damaged and he escaped.  Crews put out food and posters were placed at the airport, but he was not found.
On November 24, we joined other news  outlets in posting a story with information that was later revealed to be false or mistaken. A black and white cat, found dead ostensibly from freezing ,was determined by the airport to be the missing George, as we posted in RIP, George: Cat lost at Edmonton airport freezes to death after 2 months. Air Canada called Ms. Summerfield and news outlets to say that George had been found dead.
The dead cat was later proved not to be George when a vet and a rescuer involved in the search effort insisted on making physical examination and identification before the airline could have the cat cremated. The deceased cat was a female, so could not possibly have been George, a male. Searchers were aware of several black and white cats at the airport, presumably a mama and her litter, so were not convinced that George had been found and the case closed for Air Canada. We ate our words on December 3, with In a startling reversal, deceased cat found at Edmonton Airport is not the missing George, where we noted that advocates and searchers had not believed that George was dead and did not have faith in the airline's continued dedication to finding him. We also linked to a CBC article where Ms. Summerfield made some of her few remarks to the press.
The George Is Lost at Edmonton Airport page has made several posts today, with a few photos of a black and white cat that looks just like George. They lay out the situation in this post: It seems he showed up at this residence in Leduc a couple of days ago and the family took him in. He was hungry but looks really good for the time he's been gone. They had no idea about the story at all. When I told Mr. Wilde what had happened and how long we have been searching for him, he was shocked. He was also surprised about the reward money but really just wanted to get this little cat home. The family has three other cats and George is doing well and can stay there until we figure out what our next steps are.
We do not yet know how the Wilde family came into contact with those looking for George. We hope this time that he has truly been found; it looks very much like he has. We will provide more information as it becomes available.