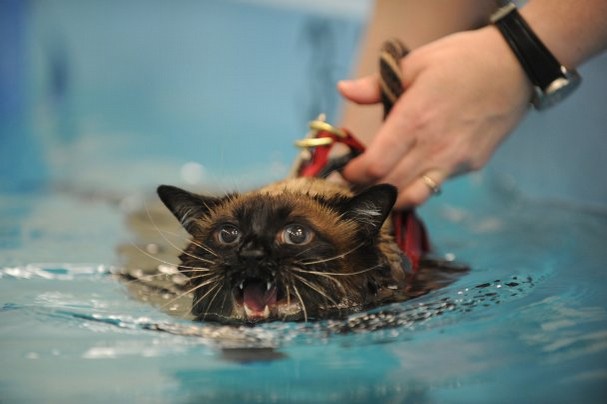 Faced with limited mobility and hip problems, 7-year-old cat Elmo tries water therapy.
Elmo suffered a broken hip as a kitten, and by the the beginning of this year had such greatly decreased mobility that he could barely walk and relied on another of the family's cats to groom him. His lack of mobility caused him to pack on the pounds, and his 24.5 weight made matters worse. Elmo also suffers from asthma.
Marvin and Elizabeth Warsow consulted with their regular vet about Elmo's condition and were referred to a program that is changing his life for the better. The hydrotherapy is part of an overall program that involves a careful weight loss diet plan.
Elmo is exercising his way to greater health and quality of life thanks to his hydrotherapy sessions with the University of Tennessee College of Veterinary Medicine's CARES (Canine Arthritis Rehabilitation Exercise Sports Medicine) program.
Since mid-January, Elmo takes twice weekly sessions. He spends about 10 minutes on the underwater treadmill, walking in two-minute stretches, then swims a few laps in the pool. Elmo was a good candidate for water therapy, showing water tolerance and curiosity, but he did not like wearing a water safety vest. Instead, he is held loosely on a lead.
Dr. Marti Drum, a clinical assistant professor in the Department of Small Animal Physical Rehabilitation, oversees Elmo's progress during his therapy sessions, monitoring his breathing and heart rate while guiding him and looking for signs of distress. Elmo does well during his sessions, gets a quick blow dry, gobbles up a snack, then heads straight in to his carrier. The part he does not particularly like, according to an article in the Knoxville News Sentinel, is the blow dry he gets after getting out of the pool.
Elmo's weight loss goal is to lose nearly half his body weight and get down to about 12.5 pounds. The weight loss goal is expected to take a year. After a month, Elmo has lost a pound, his mobility has improved, and his breathing/asthma is better.
Elizabeth Warsow told the paper, "I want him to be able to play with the other cats in the house."
Watch Elmo on the water treadmill and swimming in the pool in the video below.
About Author