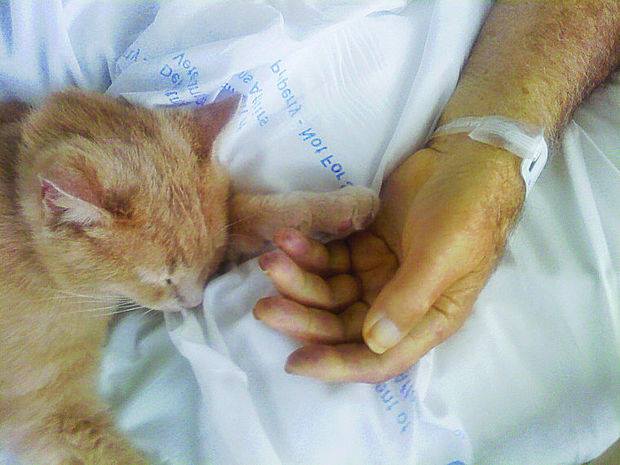 .
Tom the cat comforts veterans in hospice at a Virginia facility, brightening their days, keeping them company and staying close when they are ready to die.
Tom lives in the palliative care unit at VA Medical Center in Salem, Virginia, where he has helped create a more homelike environment and offered companionship to veterans since his adoption from the Animal Care Center of Salem in May of 2102.
Laura Hart, lead physician's assistant at the Salem VA, was inspired to get a cat for the hospice patients after hearing Dr. David Dosa speak about his book, "Making Rounds with Oscar," at a conference in Denver. The book is about Oscar the cat, who comforted Alzheimer's patients at a Rhode Island nursing home.
Ms. Hart and hospice and palliative care coordinator Dottie Rizzo wanted to find the right cat for their facility and turned to a local veterinarian, who asked around at local shelters for them. Animal Care Center of Salem staffer Lisa Tyree thought Tom was the perfect candidate for the position, and her judgement was spot on. He was the perfect cat.
"We're trying to make it a home-like environment, which is hard to do in a hospital," Ms. Hart said. "But we know the little things, like a pet, make it more bearable."
"We have seen first-hand the impact that he makes on the families and the patients and even our staff," Ms. Rizzo said. "A hospice can be a really sad place to be and work and Tom brings a calmness and normalcy to our unit. We try to be a home-like environment and a pet kind of takes it to the level that maybe it is a little more like home here with him."
"Families don't want their loved ones being alone, and it's comforting for them to know Tom is there," Ms. Hart said. "And it's amazing how many of the families really feel that Tom is there to be with their family member when they die, whether he kind of comes and herds the family into the room right before the patient passes, or he just curls up on a patient's bed in their final hours."
Pam Thompson's father Edwin Gehlert was one of the patients Tom stayed with at the end of life, and Pam was witness to Tom's presence and felt the comfort other relatives get from him.
Mr. Gehlert was surrounded by family and loved ones during his final moments, with Tom curled up next to him on the hospital bed.
"We had seen Tom in and out of daddy's room on a few of our visits," Ms. Thompson said. "But on that day it's like he knew something was different."
Tom was a comfort to Mr. Gehlert and his family, and placed his paw in Mr. Gehlert's hand immediately after his passing.
"I would never have believed a cat could have touched my heart like this cat did, but I truly felt like God was speaking to me that afternoon through Tom," Ms. Thompson said. "It was as if Tom's paw was God's hand leading my daddy up towards that light to heaven, just as I had been begging him to do for weeks."
"I left the VA that afternoon with a smile on my face and love in my heart knowing that my father was now at peace and on his way to a wonderful new adventure and it was all with the help of Tom the Cat," Ms. Thompson said.
"My husband had a beautiful passing because of that cat," said Mr. Gehlert's wife, Elizabeth. "I had such joy in my heart."
Roanoke resident Sharon Herndon was elated to see Tom at the facility when her father, Kenneth Francisco, was admitted to hospice care in November 2012. Her father, a veteran of both World war II and the Korean War, had dementia and had suffered a series of strokes. Tom was a regular visitor to his room.
"It felt like coming home, the way the room was set up, the way Tom was in there," Ms. Herndon said. "Every time we were there, Tom was in there with him."
After her father died, Ms. Herndon was inspired to write a book about her family's experience with the journey of her father's passing, and of Tom's role in that experience. "Tom the Angel Cat" is a story for children, and is illustrated by Connor Jones, a fifth-grader at Mountain View Elementary School whose artwork has raised money for charity.
Ms. Herndon published "Tom the Angel Cat" under the name Kai Herndon. The book is available from Amazon in both print and e-book editions. Due to a surge in sales in the past couple of days, the print edition is, as of this writing, temporarily out of stock, but will be shipped out to customers as soon as possible.
"It's my way of saluting my dad," Ms. Herndon said of her book. "Tom gave me inspiration. I really wanted to do something for the VA and the good work they do. They really helped me."
.
.
.
.