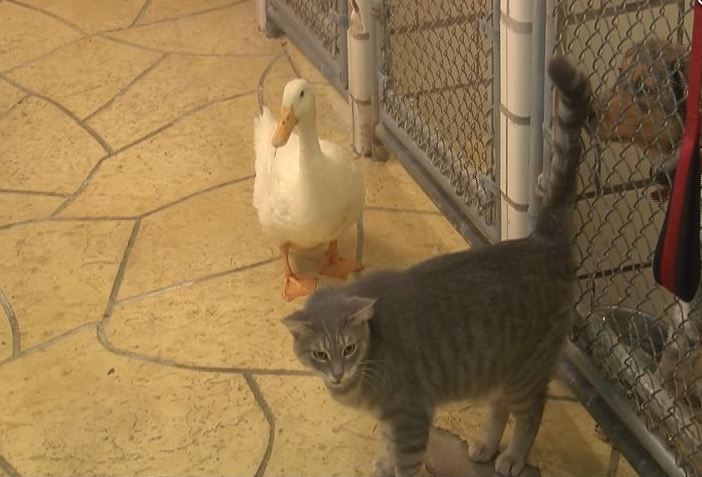 A duck and the cat who helped raise her are best friends and happily spend their days together.
Grayson the cat and Peepers the duck were both taken in and given a home by veterinarian Dr. Gary Spence, of the Spence and White Veterinary Clinic in Tyler, Texas. Dr. Spence has taken in an assortment of strays over the years but none have formed such an unusual bond as Grayson and Peepers.
Grayson was already at the clinic at 8 months old when Peepers showed up, and the growing kitten took the young duck under his wing, so to speak, and helped to parent her.
The two are nearly inseparable, and Peepers was eagerly awaiting Grayson when a news crew from Channel 7 KLTV came to the clinic do a story on the pair Sunday morning. Peepers quacked at a partially closed door, waiting for Grayson so the two could take their morning walk through the halls, which they've done every day for the past two years.
The two set off on their walk with the camera crew on hand to capture part of the action.
"They're just, I mean, they're buddies. Yeah," Dr. Spence said.
"Well, Peepers came from, she belonged to two girls that were up at UT and this was going to be their apartment duck.
"I had an 8-month-old cat, Grayson, at the time, that adopted her.
"They sleep together. They play together. She does this dance to her. That's her little Grayson dance. And, I mean, they're just best friends.
"The cat took the duck under his wing and raised her and they're best friends.
"There's really some weird pairings that will occur. And, you know, this one needed a friend and Grayson needed a friend at the time and they just buddied up."
When Dr. Spence saw the close friendship between the unlikely pair he decided to keep them together. The friends visit with the pets and their owners who come to the clinic and check up on the other animals in the vet's care.
KLTV.com-Tyler, Longview, Jacksonville, Texas | ETX News
.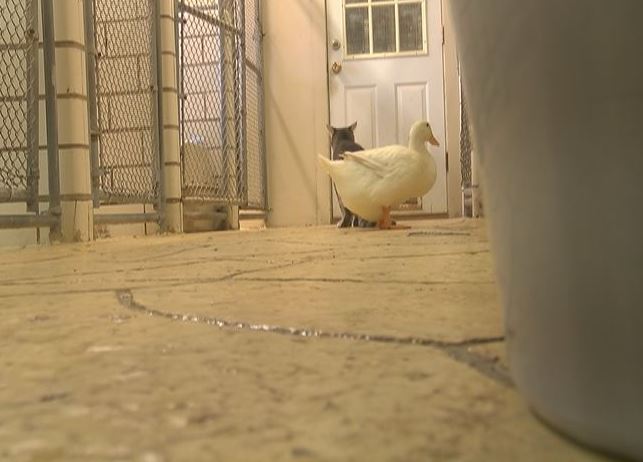 About Author