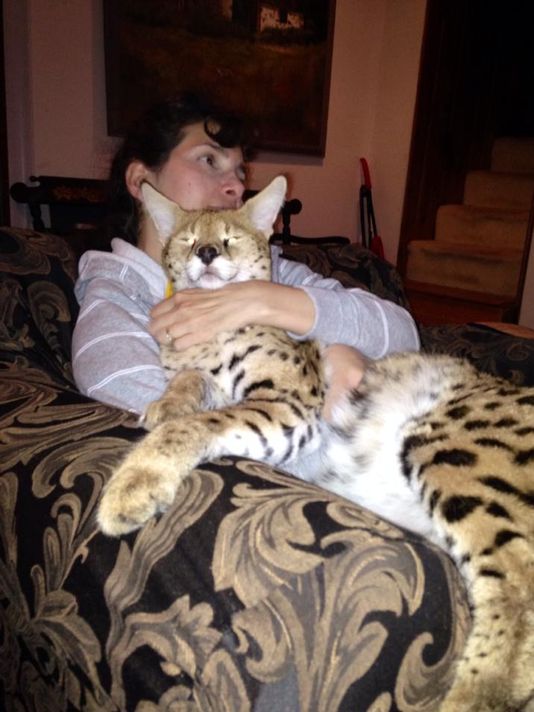 .
Boo is back! A beloved semi-exotic cat missing from his Wilmington, Delaware home for two weeks has finally been found and returned to his family.
Boo is a large 35 pound Savannah cat and has been a much loved member of Richard Todd's family for the past 9 years. He is a cross between an African Serval and an domestic Egyptian Mau.
Boo went missing on the morning of October 17 when his petdad was leaving for work. He spotted a bunny, slipped out of the house, and took off after it. His disappearance was on the local news, in part because his family was afraid for his safety and wanted him back home, and in part to let the public know that if they they saw what appeared to be a baby leopard or, as one resident who actually saw Boo said, a bobcat, they could be reassured they were instead see an unusual domestic house cat who needed help to go home.
Boo's family alerted local authorities and the Delaware SPCA, and the SPCA set out to help get Boo back home. Staff members set out humane traps and went searching for Boo nearly every night.
A local resident saw Boo and got a photo of him on Tuesday, and on Thursday when Boo was found in a park near his Wilmington home at about 9 p.m., Delaware SPCA staffers were on hand to help.
"Police spotted him coming back across Silverside Road in South Graylyn Crest, and an animal officer from the Delaware SPCA in Stanton came out and made sure he was all right," Boo's petdad Richard said.
Despite reassurances, some area residents were on edge and said they were keeping their children inside while Boo was on the loose.
"He is not a ferocious cat in any way, he is a standard domesticated cat," said Richard. "He just looks different."
"Boo is happy to be home, but he's still pretty scared," Richard said Friday morning. "While Boo was eating today, he would stop after every few bites to check his surroundings."
To spare Boo any more stress, his vet decided to make a home visit to check him out following the episode.
Other than having picked up a few ticks, Boo appeared to be in good shape when found. His family plans to isolate him in the kitchen until they've made sure he did not also pick up any fleas.
Boo celebrated his return home with a bowl of whipped cream, followed by a tongue bath and a much deserved nap.
"He was out having fun, but he came back in time for Halloween," Richard joked, once his treasured friend was back home.
.


.