.
Bobbi is a former stray kitten who survived after being attacked by a bobcat twice and laying in a snowbank overnight in bitter -17 F cold. According to her Facebook page: "It was a team effort to come together to save her life and help her get the life changing help she deserved."
Last month, Bobbi, a 7 month old kitten from a litter of strays, was attacked at least twice by a bobcat near Grand Rapids, Michigan. One wound went all the way down to her skull, exposing bone. Seriously wonded, she was also suffering from severe frostbite when she was found.
"We've seen quite a few wounds before. I've never honestly seen an attack by a bobcat that a kitten lived through. I've never seen a cat that had that extensive of a wound be that playful and interactive," said Jeff MacLellan, a veterinarian at the University of Minnesota, where Bobbi received medical treatment for her wounds.
Bobbi's vet says they employed techniques usually used on humans to reconstruct the kitten's badly damaged face, a first for the clinic.
Tania Richter of Fur-Ever Home Rescue found a home for Bobbi in the Twin Cities  within days of her rescue, and says there was never any question about whether to put the kitten down or help her to survive and transition to the life of a pampered pet.
"She didn't have any fractures or internal injuries. We would never consider euthanizing an animal unless it was the only option and the animal was in fact suffering and unable to survive," said Richter.
"You would not believe if you would have saw her head a month ago, you wouldn't realize it's the same cat," said Lisa Ehrlichman-Graves, Bobbi's foster mom.
"It cost thousands, it's an expensive undertaking, but it's the care she received, the progress she's made it's been worth every dollar," said Ehrlichman-Graves.
The bobcat responsible for the attack was trapped and released at another location.
You can see more about Bobbi and follow her progress in healing from her attack at her Bobbi the survivor Facebook page. Be forewarned – while the page shows several photos of a healed and happy Bobbi, it also includes photos of her wounds.
Bobbi is considered to be about 90 percent healed.
While Bobbi miraculously survived her attack and has made excellent progress in healing, her recovery remains ongoing, and is likely to include further procedures.
.
Watch the NNC NOW report on the story:
.
.
.
.
.
.
.
.
[caption id="attachment_65440" align="aligncenter" width="644"]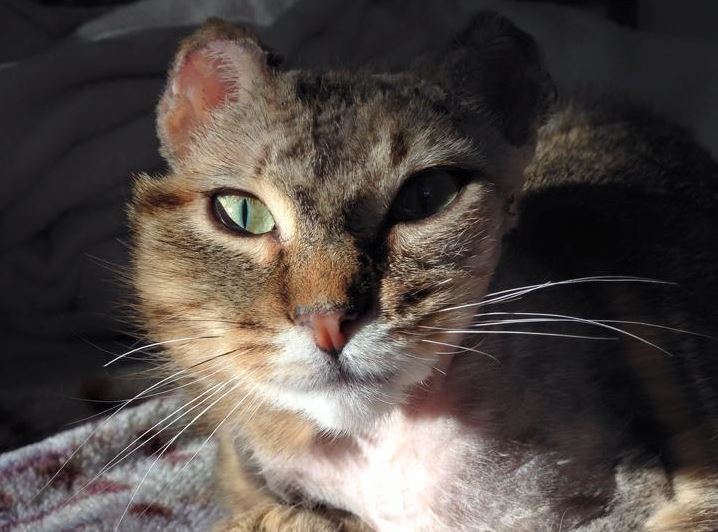 Bobbi, in a February 15, 2015 photo
[/caption]
About Author