Husband and wife team document cat colonies across the country
BALTIMORE, MD—For over five years Jason and Elizabeth Putsche have documented the mysterious lives of a regularly misunderstood animal—the feral cat. Also referred to as community cats, alley cats, street cats, stray cats—controversy surrounds them, headlines vilify them, and scientists scrutinize them, yet millions of people feed, care, and advocate for them. Because they aren't adoptable they have the highest kill rates in animal shelters, and though talked about and debated regularly, they are rarely seen.
The Putsches' photographs bring feral cats into focus, showing these inconspicuous creatures in their natural habitats. Urban, rural, industrial, suburban—constant chameleons, they adapt to any conditions. These felines captivate and fascinate—and the Putsches' photos contend that their magnificence ought not be overlooked.
Through their nonprofit organization, Photographers for Animals, the couple is in the process of producing a documentary that details the lives of community cats and the people and programs that help them.
"Many people draw a distinction between their pet cats and cats that live outside, but they are really the same," says Elizabeth Putsche, founder and executive director of Photographers for Animals. "The care and compassion we give our animals at home should be extended to these cats, even if we can't pet them. Each has a personality and individuality—and each has a story to tell."
An ever growing number of communities have adopted Trap-Neuter-Return (TNR) programs to prevent community cats from being brought to and killed in shelters. Through TNR cats are humanely trapped by volunteers, and in some cities by animal control officers, before they are brought to a clinic to be neutered and vaccinated. During surgery the tip of the cats' left ear is removed ("eartipped") to identify the cat has been neutered and vaccinated—to avoid retrapping the same cats.
"There are a lot of misconceptions about community cats," says Putsche. "We want people to see them as they truly are—independent, healthy, loved, and thriving outdoors."
For the best odds of photographing these elusive felines the Putsches work with caregivers who feed a group or colony of cats on a regular schedule. Unsung heroes, the community cat caregivers are men and women from all walks of life who typically spend their own money to feed and neuter the cats—providing a public service to the community.
See more of the Putsches' photos of community cats HERE.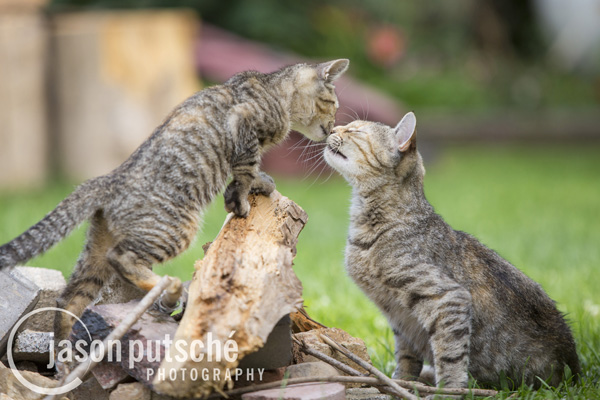 ###
About Jason Putsché Photography: 
Jason Putsche Photography is a husband and wife photography and videography team located in Baltimore, Maryland. They specialize in capturing candid moments, subtle expressions and exchanges and delivering unexpected images. Their photographs have appeared in numerous publications including USA Today, The Washington Post and The Baltimore Sun. True animal lovers, their animal photography has appeared in Best Friends Magazine, Cat Fancy and Animal Wellness. Their website is www.jasonputsche.com.
About Photographers for Animals
: Photographers for Animals is a 501c3 nonprofit organization which uses film and photography to inspire positive change for animals. Founded in 2014 by life-long animal advocate, Elizabeth Putsche, the organization produces documentaries, online videos, and photographs independently and in conjunction with other animal protection organizations to raise awareness of animal issues. Its website is www.photographersforanimals.org.
About Author