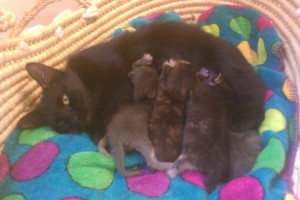 One morning in June, Maria left her Georgia home, ready to bargain-hunt at local garage sales. Little did she know the treasures which would lie ahead and the six little furry lives she would forever change.
I met Maria last week at the BlogPaws pet blogger conference outside Washington, D.C. Actually, before I saw Maria, I saw five baby kitties and one thin mama, each cradled in the loving arms of cat blogger friends. We each instantly fell in love with these cats, and were even more enamored by the work Maria had done to ensure their rescue.
With the guidance of seasoned rescuer, Robin from Covered in Cat Hair, and the indispensable financial support of Kitten Associates, Maria rescued Mama Kitty and patiently waited until she brought her to her five babies. After eight weeks and many prayers that the babies wouldn't get sick, the family was fully vetted and Maria and fellow rescuer Bobby transported the little miracle family from Georgia to the blogging conference, where Robin and Sam took over and made sure they made it safe and sound to their home in Connecticut.
In Maria's own words, here is the story:
"I was out hitting yard sales early one morning in June.  I ended up in an area that I was unfamiliar with so I decided to turn around in a subdivision called Amber Cove.  To my surprise, I saw a black cat laying smack dab in the middle of the road.  It didn't look hurt so I drove right up to it thinking it would move.  The kitty stayed right where it was so I thought it may in fact be hurt.  I got out and called it and to my surprise, the kitty got up, meowed and came over and rubbed on my leg!  She was beautiful but very skinny.  I always carry cat food in my car for "just in case" reasons.  This kitty was VERY vocal and when I put down food and water for her, she scarfed it down like she was starving.
Ravenous Amberly devouring the food Maria gave her
I noticed that her ta ta's looked like they may have milk in them so I wasn't sure if she was pregnant or had babies somewhere near.  I called Robin to see what she thought and she she wasn't sure but said that I should stick around to see if the mama would bring me to her babies.  I asked a resident if he knew who this cat belonged to and he said no.  After waiting for an hour for this black kitty to bring me to her babies, I decided to bring her to my vet to see what they thought.  The vet didn't feel anything in her belly and because they didn't have any other clients in the office at the time, said they would do a free ultra sound just to make sure.  She didn't have anything in her belly so we were still unsure if this little girl who the vet said was only 10-12 months herself and who weighed in at only 5lbs had babies out there.  Due to the fact that she was so young, the vet said that she may have lost her babies.
I took her back out to where I found her hoping that if in fact she did have babies, she would take me to them since we had been gone for a while.  I named her Amberly since I found her in Amber Cove.  Amberly and I waited for another hour with no luck.  She followed me everywhere I went and when I went back in my car to see if she would go off to find her babies, she almost got hit by a car.  I couldn't leave her out there so I brought her home.
By late that afternoon, Amberly's ta ta's had filled back up with milk so I knew then that she did in fact have babies out there.  I took her out there one more time and of course there was a thunderstorm on the horizon.  As soon as we pulled into the subdivision the downpour came.  Luckily it was a quick shower and Amberly and I were out on the search again.  Once again, no luck.  I took her back home feeling very uneasy that there were babies out there that were hungry and scared without their mama.  I talked to Robin again and she agreed to make up flyers to hand out the next morning around the neighborhood.  I had a friend come with me to help search for the babies and then my niece and sister came with the flyers.
After two hours of searching through the woods, handing out flyers and talking to neighbors, we sat down on the curb and took a break.  Amberly kept looking down the storm drain and I thought, oh please don't let her babies be down there.  I couldn't hear them but she kept looking down the hole.  Finally, Amberly took off walking at a fast pace down the street.  My niece and I followed behind her and we watched her go up into a wooded front yard.  She was gone and I started to panic.  Luckily the teenage boy who lived in the house was outside and I asked him if he had seen her.  He said that he had seen a black cat the past couple of weeks and he thought someone had dumped it off.  When I talked to the mom, she too had seen this black kitty laying in the middle of the street!  Oh Amberly!  I asked if it would be ok for us to look around his yard to see if we could find her and he said that was fine.  My niece and I headed towards a shed in the back when we heard the boy say that he found her.  We ran over to him and there she was in a hole in the bottom of a tree feeding her babies!!!
I couldn't believe my eyes, and knew a true miracle had just happened.  Luckily, the boy had welding gloves and a flashlight.  My niece ran to get the cat carrier and one by one, I pulled the itty bitty kittens from the hole.
Baby calico-tabby Blaze is removed from the tree!
Amberly was so great about it.  I couldn't believe there were FIVE babies!!!  They survived over 24hrs without her and all still looked alert and healthy.  I immediately called Robin to tell her the amazing news!  There is NO DOUBT in my mind that a higher power sent me to find Amberly that day.  I have never in 10yrs of living here ever been in the area I was the day I found her and her babies.  It was a true miracle."
With the combined efforts of Maria, Robin, and The Kitten Associates, all kitties are doing well and are available for adoption via Petfinder.  The expenses surrounding the care of Amberly and her kittens add up quickly so a donation chipin has been set up to assist with costs. We've included the Chip-In widget to help these kitties at the bottom of this post, for anyone who is inclined to help.
For fun pictures of kitten cuddling with these furballs by some of the ladies who attended the BlogPaws pet blogger conference, see today's post at Catladyland.
Life is full of twists and turns. Sometimes it leads us to yard sales and sends us home with a family of homeless cats. Sometimes we get to witness a true miracle.
Dinnertime!
Two months later: Babies Blaze and Jack LiLac
Two months later: Baby Truffles
Two months later: Baby BlueBelle
Two months later: Baby Periwinkle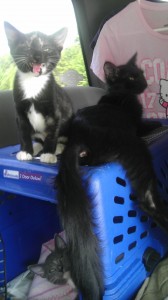 Baby Jack and Amberly want Baby Truffles to keep it down on the long trip BlogPaws.
Babies Jack, Blaze, and Truffles make themselves at home on the hotel bathroom counter.
Sam, Robin, Bobby, and Maria (seated with Amberly) at BlogPaws
Click on the widget if you wish to contribute to the miracle family's care expenses.