Mea's adoption story struck a chord with readers and was widely read and shared. Petmom Angela Gebhardt sent us this update on Mea and her happy life in her new home.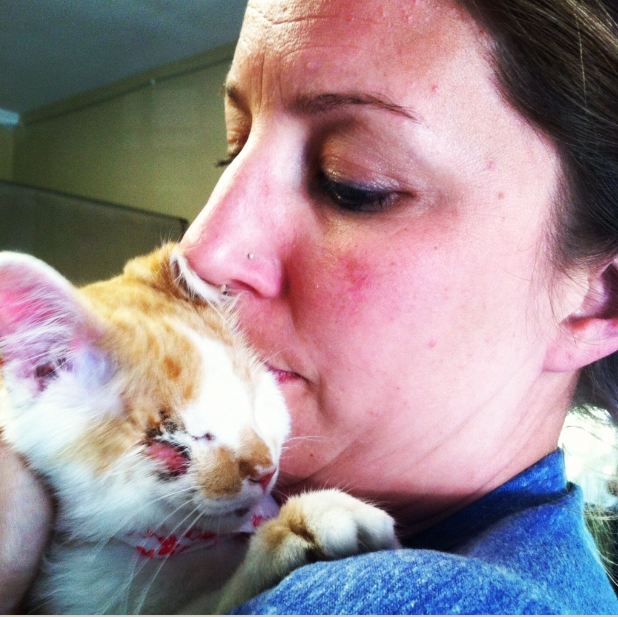 This photo from the moment when Angela first got to hold her baby speaks volumes.
Angela Gebhardt traveled halfway across the US to adopt Mea from Last Chance Animal Rescue after seeing her photo at Facebook. Mea's eyes had to be removed due to a severe infection and Angela couldn't get her out of her mind, and adopted her.
Readers were touched when Angela Gebhardt shared the story of her adoption of blind kitty Mea, in April, in Mea Blind Kitty Gets a Home. Angela's greater mission in telling the story was to show people that blind and other special needs kitties can make wonderful pets whose presence in our homes and families can be equally as gratifying, if not more so, than so-called normal pets.
Since Mea's adoption and over the course of her settling into her new home, Angela has continued to share Mea with the world at her Mea the Beautiful Kitty that's Blind Facebook page, and her YouTube channel. She wrote the following update for the thousands of readers who were touched by Mia's adoption story. Mia and her new family are enjoying their sweet happily ever after.
Angela writes:
Mea has been here nearly three months now and she is FLOURISHING!
I figured she'd be in her room for a few weeks but the very next morning she was already sitting on the chair, had figured out how to jump from the chair to a table in front of the window, and climb to the 3rd bookshelf in the room!
She amazed me with her progress coming so fast that we introduced her to the boys after a week! I have two other kiddos in the house, Shadow (8 yr old black DSH male) and Peanut (1 yr old Tabby DSH male) and not a joke,  Mea and Peanut became best friends in 3 days. They sleep together, play together, groom each other…it's been amazing, and it's easy to say that Shadow is grateful, because he likes to be by himself.
Mea climbs on everything, even though it scares me sometimes, and you should SEE her with her "mouse on a stick" toy, which sh plays with in some of her videos. She follows it perfectly! She can maneuver around the table and four chairs, all the nooks and crannies of the house she has memorized.
You would NEVER know she's blind for a second unless I told you or you saw her eyes. I always felt in my heart that animals with disabilities were NOT disabled, it's us that sees them that way. She is only unique and more amazing with all that she can do.
Mea and Peanut
Listening to the birdies outside
Since bringing Mea home April 20th she has FLOURISHED here and become an amazing addition to our family. Peanut has taken to Mea like a true big brother and can't HELP but love on her like CRAZY!  We've even had to move his food bowl upstairs to be next to hers because he can't stand not being right next to her. They play rough and lick each other constantly!
You can see many of the videos of the two of them on Mea's you tube channel. This is a good one of Mea messing with Peanut, but also showing you HOW amazing she is!
.
Her blindness doesn't keep her from anything at all, and she's even caught two flies buzzing by her!  She mastered the house layout in 2 days and runs around like she owns the place (which, actually, she does!) This next video is a good one of her & Peanut playing & shows you how well she knows the house (please forgive my snort 1/2 way through)
.

.
Friends, I had NO idea how much we needed her in this house and how much Peanut needed to take care of another living creature.  She is an AMAZING blessing to us!
Before I brought her home I knew she'd be loved but I had NO idea how much she'd complete our family. She is TRULY a blessing!
Mea has really has completed our family in ways I never knew she would.
I have nothing to worry about with Peanut around 🙂 it's like he's saying "no sis. Not THAT way. Here, let me help you…" such a great big brother 🙂
Watching Mea get down

Mea sleeping in Peanut's box.