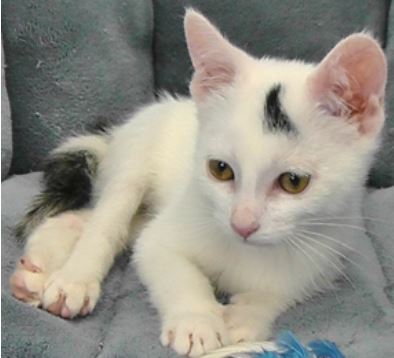 Thumper couldn't walk due to a neurological condition when he was rescued as an 8 week old kitten. With physical therapy and a wheeled cart, Thumper became stronger and learned to walk and play.
Thumper was rescued at 8 weeks old this past June, along with his siblings, by PACT (People And Cats together), an all-volunteer rescue group in Redondo Beach, California.
Thumper, his littermates and the kittens from two additional litters were all abandoned in a yard that has become a dumping ground for unwanted kittens.
Diagnosed with neurological issues, Thumper had limited use of his hind legs. X-rays showed no spinal damage, but due to his inability to use his hind legs, the muscles were atrophying.
Thumper began receiving chiropractic manipulation with Dr. Anthony Gambucci in El Segundo, CA.
Along with the physical therapy, Thumper began using a wheelchair/walker to exercise his leg muscles.
Within a few weeks, Thumper was taking his first steps on his own. Before long, he could walk to his food bowl and stand to eat.
By August 26, PACT was able to say: Thumper is getting big and has shown remarkable improvement with therapy and exercise. Although somewhat unstable, he is able to run and play with his siblings.
The combination of physical therapy, the wheeled cart, and devoted care helped Thumper to overcome his physical condition.
Though he was put up for adoption several weeks ago, Thumper is still listed at Petfinder as available. PACT does not do long distance adoptions, so his future petparent will need to live fairly close by to Redondo Beach. (Note: at the time of this posting there are site issues at Petfinder, which we imagine will be resolved soon.)
PACT made the first two videos below, which tell Thumper's story and show him using his cart and then walking, running and playing on his own.
The third video profiles Thumper with on camera commentary from his caregivers, PACT's founder Jane and Thumper's foster mom Anita.
Cat Wheelchair/Walker Thumper the Wonder Cat: Thumper uses his wheeled cart to get around and strengthen his legs.

August 26: Update showing Thumper's progress

Thumper's "Tail of Hope"