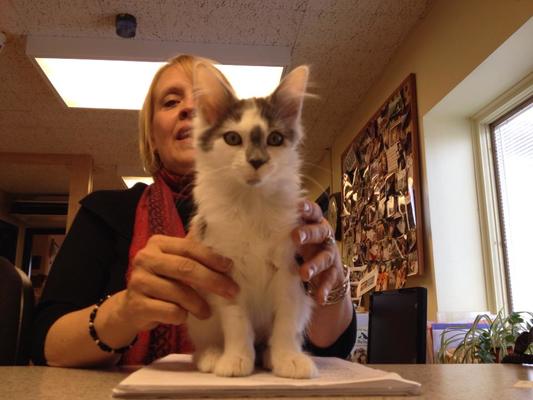 The Animal Refuge League of Greater Portland announced today that Miracle, the kitten who became the object of worldwide interest and concern after she was placed in a microwave oven by two teen-aged South Portland, ME girls in September, was adopted and went to her new home.
Miracle was used by the girls in the making of a sickening 6 second Vine video that was posted to Twitter. She is placed in the microwave in the first part of the video. In the second part of the video, after a cut, she is seen going around and then exiting the microwave in distress as the door is opened for her by the second of the two girls.
The kitten was thankfully unharmed by the experience, which could have killed her had it gone on long enough. Her family gave her up to the shelter, where she was determined to be underweight and loaded with fleas.  She initially struggled to maintain her body temperature and her body had trouble absorbing nutrients. Shelter staff said the 8 week old kitten had probably been taken away from her mother too soon.
See our stories from September 9 and 10 for more on Miracle and the incident: Teen Girls Charged, Kitten Safe After Microwave Vine Video is Reported to Police and Miracle Update: Maine Microwave Kitten Doing Well and Getting Worldwide Support.
Mary Byram of Scarborough was the winner of a lottery to adopt Miracle.  "It was unreal. I just was so excited," she said about the experience when received the good news on Thursday.
The shelter received hundreds of offers to adopt Miracle from animal lovers across the US and across the world, and saw a welcome increase in adoptions.
Miracle's adopter Mary Byram said, "People need to recognize that animals are creatures worth respecting and loving."
Byram is retired, and will be able to devote a lot of time to the kitten.
Channel 6 news reported on the story. Watch the video:
.
.