Nafas, Iranian "Street Cat" with Missing Nose, Gets Life Changing Surgery at Angell Animal Medical Center in Boston
BOSTON, Aug. 22, 2013 – When "Nafas," a one-year-old cat found in October 2012 curled up under a car on a busy street in Iran's capital city, was rescued by a good Samaritan he looked just like the millions of other stray cats desperate to escape being killed while foraging for food scraps on the streets of Tehran.
Nafas was filthy, his face and eyes were covered in an infectious mass and he was emaciated. X-rays would later show he had been eating pebbles and sticks in a desperate bid to survive.
Making matters worse, a local Iranian veterinarian was forced to surgically remove the young cat's nose and upper lip in a desperate bid to eliminate infected tissue and save his life. The operation left him permanently scarred, with his nasal cavity fully exposed. Moreover, it became increasingly difficult for the young cat to eat and breathe.
Iranian-American animal welfare activist Yasie Saadat brought the young cat back to the U.S. and sought out reconstructive surgery from Dr. Mike Pavletic, head of the MSPCA's Angell Animal Medical Center's surgery department.
Angell Comes to Nafas' Aid
Dr. Pavletic first evaluated Nafas in January 2013 to determine how a new nose and upper lip might be constructed using adjacent facial tissue. It was a challenging assignment even for Dr. Pavletic, who has a long history of performing reconstructive surgery on animals after traumatic injuries.
"Nafas was a particularly difficult case given how little tissue there was to work with," he said. "Ultimately we were able to build a new nose and upper lip using a technique I developed several years ago to use unaffected facial tissue to perform the reconstruction."
Dr. Pavletic—who once re-attached a cat's face after it was torn off by a car's fan blade—spent nearly three hours reconstructing Nafas' tiny face.
"I'm very pleased with the outcome and am confident Nafas will enjoy a long and healthy life. He certainly deserves that after all he's undergone."
Saadat is now wholly focused on finding that forever home for Nafas, who has his very own Nafas Facebook page  followed by well-wishers from around the world.
"I'm grateful to Angell and to Dr. Pavletic for everything he has done to help Nafas to live as normal a life as possible," said Saadat. "And I know Nafas is going to make one individual or family very happy once he's adopted."
Anyone who is interested in adopting Nafas can fill out an application online by clicking here or by emailing [email protected].
Nafas currently lives with his foster caregiver in Cambridge, MA.
The Nafas Facebook page , started in October 2012, follows Nafas from the time he was found as a dirty stray with a huge deforming mass on his face, through his travels and his surgery.  He was helped by caring persons at every step along the way.
According to the page's description:
"This is the story of "Nafas": Found in dire condition on the streets of Tehran, now living with a foster family in Cambridge, MA."
"In this page you can read and follow his story of survival and see what's possible when good intentioned people live up to the name "human" and come together to help a kitten from all corners of this planet. We hope his story will serve as inspiration to people of all walks whether or not you work in animal rescue."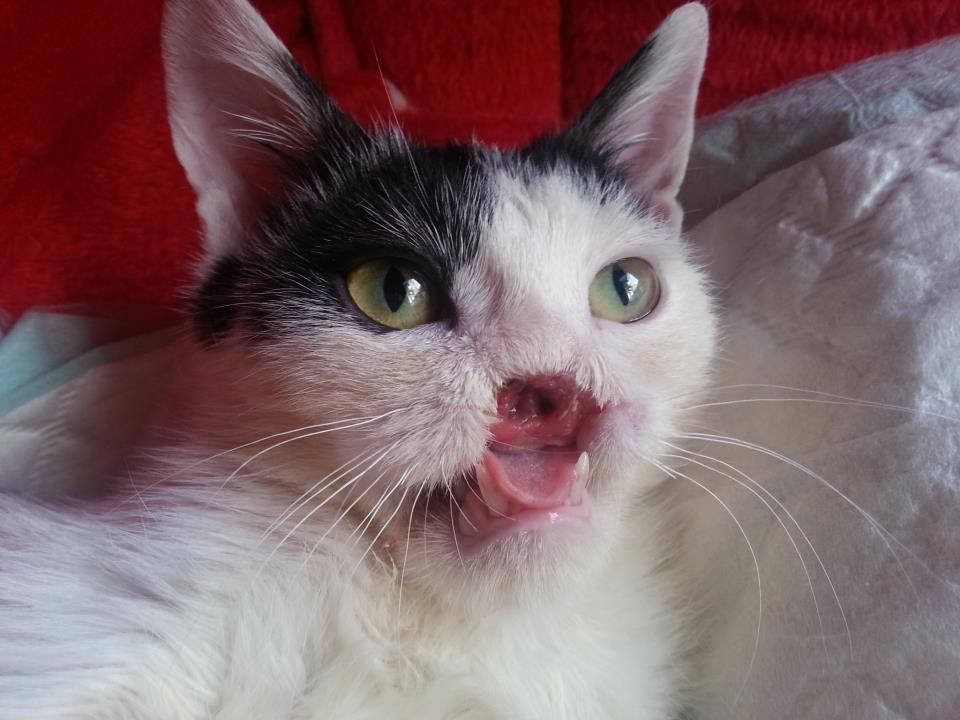 ###
 Angell Animal Medical Center cares for more than 50,000 animals a year and is one of the most acclaimed veterinary practices in the country. Angell has 67 doctors and an experienced support staff who work as a team to ensure high quality general wellness, emergency and specialty care. With 31 board-certified specialists and technology that includes an MRI specifically designed for animals, Angell is committed to providing a broad range of specialized expertise and experience, but delivers this care with one-on-one compassion that animals and their owners deserve. Angell is open for emergencies 24 hours of every day of the year, and offers night and weekend appointments with our specialty services.